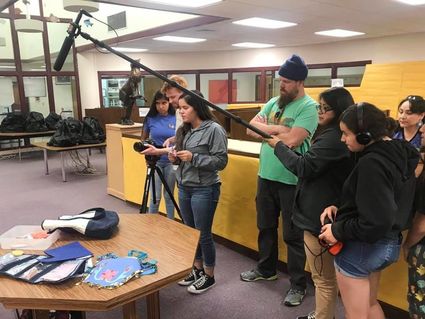 Tonight, at 6:30 p.m. at the Hays/Lodge Pole High School, there will be a screening of the award-winning film Looking Forward From Yesterday: Fighting for Our Culture produced by Harlem High School students with generous support from Harlem High School, Montana Gear Up, MAPS Media Institute, and the Greater Montana Foundation. The documentary film will be shown at the Mid-Winter Fair Banquet. Later this month, the film will screen at the Big Sky Documentary Film Festival (BSDFF), which will be held in Missoula, Montana, February 14-23.
Looking Forward From Yesterday was selected to screen at the 17th Annual BSDFF from among nearly 2,000 submissions received by Festival officials, who wrote in a congratulatory letter to Harlem High School (HHS): "The quality of work we received was exceptional overall––which made the competition for selections intense. We are especially pleased that you have chosen BSDFF as a venue to exhibit your work. We will do everything possible to ensure that you have a valuable and memorable experience at Big Sky. You will receive All-Access passes for you and your crew, good for all screenings, filmmaker receptions, parties, the DocShop conference, and other festival events."
The BSDFF is the premier venue for non-fiction film in the American West. Big Sky offers a setting for filmmakers to premiere new work and to develop relationships with fellow filmmakers and the industry. The Festival draws an audience of 20,000 as well as film entries from every corner of the globe. In addition to screenings, the Big Sky DocShop is a five-day industry event that includes panels, master classes, and workshops.
The screening of Looking Forward From Yesterday will take place in the Zootown Arts Community Center (ZACC), an official venue of the BSDFF in downtown Missoula on Tuesday, February 18 at 4:00 p.m. It will air a second time on Sunday, February 23 at 3:30 p.m. at the historic Wilma Theater.
Craig Todd, who teaches Technical Education, Video Production, and Communication Arts for the Harlem Junior and Senior High School, worked with student filmmakers and the MAPS Media Institute to produce the film. Other advisors on the school project were Hope Doney and Robe Walker.
The film production project involved approximately two dozen students who performed in roles such as dancers, actors/actresses, interviewers, cinematographers, gimble operators, drone operators, editors, sound recordists, boom operators, poster designers, light technicians, and production assistants.
Although many students participated, according to Todd, "a core of seven really did the heavy-lifting by investing five long days conducting interviews, filming live action and b-roll footage, and telling their story." B-roll footage is any supplemental video that is considered to be secondary to primary footage. B-roll can be gathered with a separate unit, acquired from stock footage, or obtained from any source other than one's principal photography.
Directed by Alexis Bigby and shot, edited, and mixed for sound and cinematography by other students from HHS, the ten-minute film features people of the Aaniiih and Nakoda Tribes who pay homage to their culture. About the film, the MAPS Media Institute website posted this description: This film is a powerful and intimate story of the struggle to preserve a way of life that many thought to be lost. The Aaniiih (Gros Ventre) and Nakoda (Assiniboine) People work in ways, large and small, every day to preserve – and in some cases resurrect – their culture in modern-day life. The elder generations strive to teach their young the values of family, community, and sense of place. And although the younger generation is consumed with all of the trappings of modern-day life, there are many teens that are open and ready to learn and preserve their heritage, which has existed for thousands of years.
To weave its tale of pain, of loss, and ultimately of hope, Looking Forward From Yesterday features a combination of landscape shots, found historical footage, and interviews with tribal elders. It was filmed and edited in a five-day workshop in May of 2019, an abbreviated timeline that makes the film's accomplishments of storytelling craft even more impressive.
"The daughter of Alan and Amber Bigby, Alexis Bigby is listed as the producer/director because she took leadership on the project and did an amazing job," Todd explained, "But she is really unassuming about accepting accolades for her work, insisting the film project was a team effort."
About the Harlem-produced film and its crew, Dru Carr, an instructor with the MAPS Institute said: "This is the third film project we've done with the students of Harlem High School. These young artists have both skill and heart. They committed themselves to working hard during just a few days of filming and editing, and it shows in the depth and creativity of their final production."
MAPS, which stands for Media Arts in the Public Schools, launched in 2004 in the Bitterroot Valley with an elective filmmaking class at Corvallis High School. An educational nonprofit that offers free-of-charge, professional instruction in media arts, MAPS has steadily grown in the past fifteen years to reach middle and high school students across the state as they fulfill their mission "to empower, inspire, and prepare Montana's next generation for future success through professional media arts instruction, engaging community service and compassionate mentoring,"
MAPS is able to perform this outreach with its mobile unit, the MAPS Media Lab, which is a complete media arts studio equipped with cameras, audio, lighting, green screen and accessories. Among their 2019 Highlights shared this past December, MAPS released news that one of their new Media Lab Trucks had logged 5,000 miles in 2019 after facilitating media workshops in East Helena, as well as on the Blackfeet, Fort Belknap, and Fort Peck Indian Reservations.
When the Harlem group travels to Missoula for the Festival, they will engage with other students from across the state to produce a film that will be shown on the last day of the Festival. The student group will collaborate with the University of Montana School of Media Arts as well as MAPS representatives and other professional filmmakers attending the Festival.
"Last year when we attended the Festival, the students visited Hellgate, Sentinel, and Big Sky High Schools in Missoula for a 'Filmmakers in the Schools' program speaking about their work with film production and doing a Q and A with students in the classrooms. They also attended receptions in the evenings and got to meet filmmakers from all-over the world," Todd explained.
Todd went on to say, "The trip was really a life-changing experience for them. In fact, someone offered Dante Jackson a job, so he had to explain he was only a sophomore then. Dante is in his element when he works with film. Usually, a quiet and reserved young man, he transforms into a talkative expert with a film project. This should be another great experience for the students since the group will have All-Access passes." Alexis Bigby, Dante Jackson, Clinton Brown, Amilia Black Crow, Nellie King, and Mitchrena Begay will be those in the group travelling to Missoula. Others wanted to attend the Festival, according to Todd, but conflicts with basketball and wrestling prevented their availability.
Harlem students have worked with MAPS on three different projects so far, and this is their second time to appear at the Big Sky Documentary Film Festival. Last year, one of the films chosen for the 2019 Festival line up was the two-minute "Harlem Rap" written and performed by Hunter Gray and edited primarily by Dante Jackson. The film was conceived and produced by students under the guidance of MAPS instructors Dru Carr and Louey Winkler, who facilitated a three-day professional development workshop with the staff and students at Harlem High School.
The quality of what MAPS students are producing is commanding attention since MAPS landed two more films in this year's Festival. The second, In This Together, We Are One: The Buffalo Unity Project is a 21-minute program created by seventh-grade students at Poplar Middle School on the Fort Peck Indian Reservation.
The film, which will screen on Tuesday, February 18 at 4:00 p.m. at the ZACC and again on Thursday, February 20 at 1:00 p.m. at the Wilma Theater, recaptures the period in the late 1800s when American bison were pushed to the brink of extinction and entire indigenous cultures were nearly destroyed. It goes on to illustrate how contemporary Dakota and Nakoda people are re-connecting their youth to the bison with the Buffalo Unity Project, a program on the Fort Peck Reservation that teaches students about the complex, symbiotic relationship between Plains Indians and the American bison. The project culminates in the successful hunt of a reservation bison, with a particular focus on the spiritual connection between the hunter and the hunted.
According to MAPS Executive Director Clare Ann Harff, the Fort Belknap and Fort Peck films not only demonstrate the eloquence of expression residing in Montana's remote areas but also exemplify the media institute's commitment to serving students in these communities.
About the Big Sky Documentary Film Festival entries, Harff said: "The main goal of the MAPS Media Lab statewide outreach program is to provide impactful media arts experiences to Montana's rural and reservation youth. We are excited and impressed by what these students have accomplished in these films. And to have two of our student films play alongside some of the best non-fiction films in the world, well, let's just say that we're as proud as we can be!"