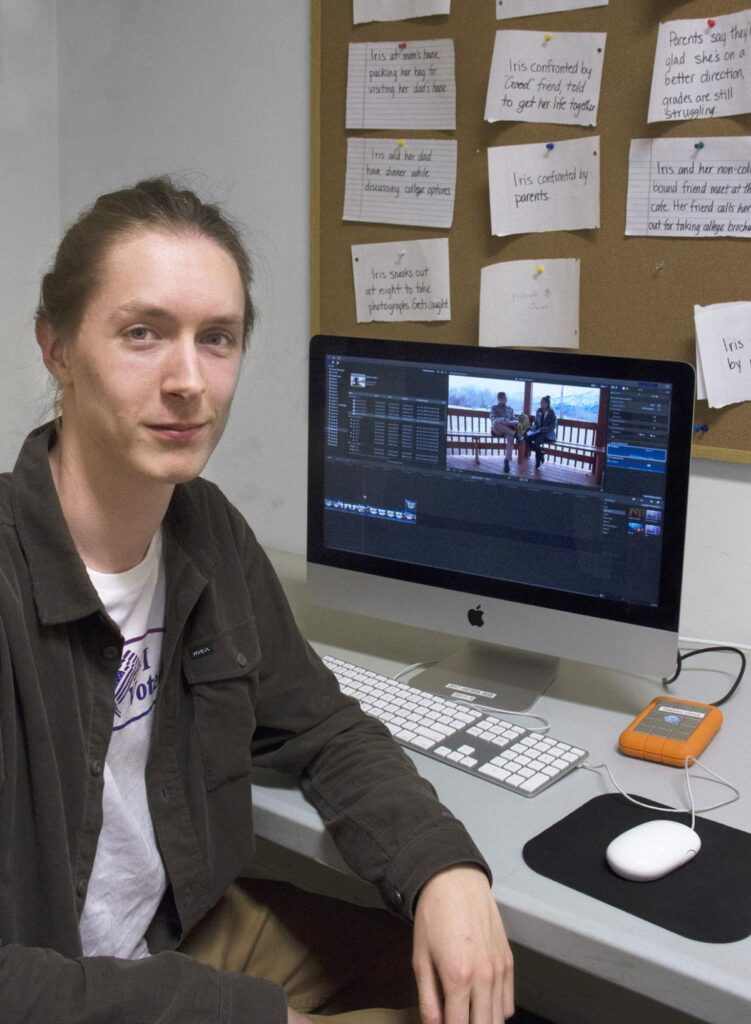 Students from the MAPS Media Institute won two awards from The 42nd Annual Fresh Films NorthWest (FFNW) film competition for its films "Aisitsimsta" and "Iris".
"Aisitsimsta", one of 15 winners from over 130 entries, is a film produced by Browning High School and Middle School students during a week–long MAPS Montana GEAR Up 2018 summer workshop.
"Iris" produced by Hamilton MAPS students, was awarded an honorable mention.
Fresh Films Northwest is a festival of the Northwest Film Center which juries work by up-and-coming teen filmmakers living in Alaska, British Columbia, Idaho, Montana, Oregon and Washington.
In "Aisitsimsta" (translated from the Blackfoot language as "Imagination"), a science classroom becomes the catalyst for students imagining their dreams. It is a conceptual work on the power of daydreaming and the ability to work toward goals.
For Mecca Bullchild, a Browning eighth-grade student, this was her first experience in making a film.
"Our message in this film was to inspire not only ourselves about thinking about our futures but for other students to never stop dreaming," Bullchild said. "In doing this project, I learned all of the different roles, like director, actor, script writing, etcetera, that happen in making movies and have major respect for the people in the filmmaking industry because just creating our short film was a lot of work."
"Iris", was produced by MAPS student and Hamilton High School senior, George Glidden.
"The film "Iris" reflects on the life of a young artist and that the process of creating art can be challenging, not only as an individual, but as a member of a family and a community with expectations that may not always align with your own," Glidden said. "It is about finding reconciliation between the inner and the outer person in a meaningful, productive way without abandoning the things that are most important to you."
MAPS Media Institute, founded in 2004 and located in Hamilton, is an after school media arts program, for students is grades 8 – 12, which offers free-of-charge classes in filmmaking, graphic design, music production, computer science, entrepreneurship and community service. In 2017, MAPS was awarded as one of the top 12 creative youth programs in the United States by the President's Committee for the Arts and Humanities. In addition to the Hamilton based program, MAPS also has a statewide educational outreach program, the MAPS Media Lab. MAPS mission is to help Montana's youth "find their voices" through relevant, creative media arts opportunities.
MAPS Executive Director Clare Ann Harff said regional awards from Fresh Films Northwest is a testament to the power of sharing stories.
"It also is a testament to the importance of getting your stories out there into the world," she said.
Since 2013, MAPS has partnered with Montana GEAR Up, a program dedicated to improving high school graduate and college enrollment rates, sponsored by the Montana Commission of Higher Education.
Melanie Magee, the Montana GEAR Up Coordinator for Browning Schools, explains the opportunity.
"Living in rural Montana, partnerships with Montana GEAR UP and MAPS Media Institute provide opportunities that would otherwise not be available or affordable to our students," Magee said. "We have so many students with different talents that being able to connect students with these camps has helped guide their future paths as well as boost their self-confidence."
Collaborative projects on several of Montana's Indian Reservations is an honor for the MAPS Media Institute, according to Dru Carr, Program Director of the MAPS Media Lab.
"In addition to our after school program in Hamilton, MAPS facilitates filmmaking, digital storytelling, and spoken word workshops in collaboration with local students from the Flathead, Blackfeet and Fort Belknap Indian Reservations.," Carr said. "The students in these schools – all of which have very little, if any, media arts programming—have produced wonderfully creative, professional and inspiring projects. Awards like this showcase the many talents of Montana's youth and MAPS is committed to helping more students bring their stories to life. "
The award ceremony for The 42nd Annual Fresh Films NorthWest (FFNW) film competition will take place Saturday, Nov. 2, at the Fresh films Northwest Whitsell Auditorium in Portland, Oregon.
To watch both "Aisitsimsta" and "Iris" visit MAPS YouTube channel. For more information on MAPS Media Institute, visit www.mapsmediainstitute.com.