WE ARE SO HONORED
MAPS Media Institute is the 2023 National Academy of Television Arts & Sciences Northwest (NATAS NW)
Governor's Award Winner
---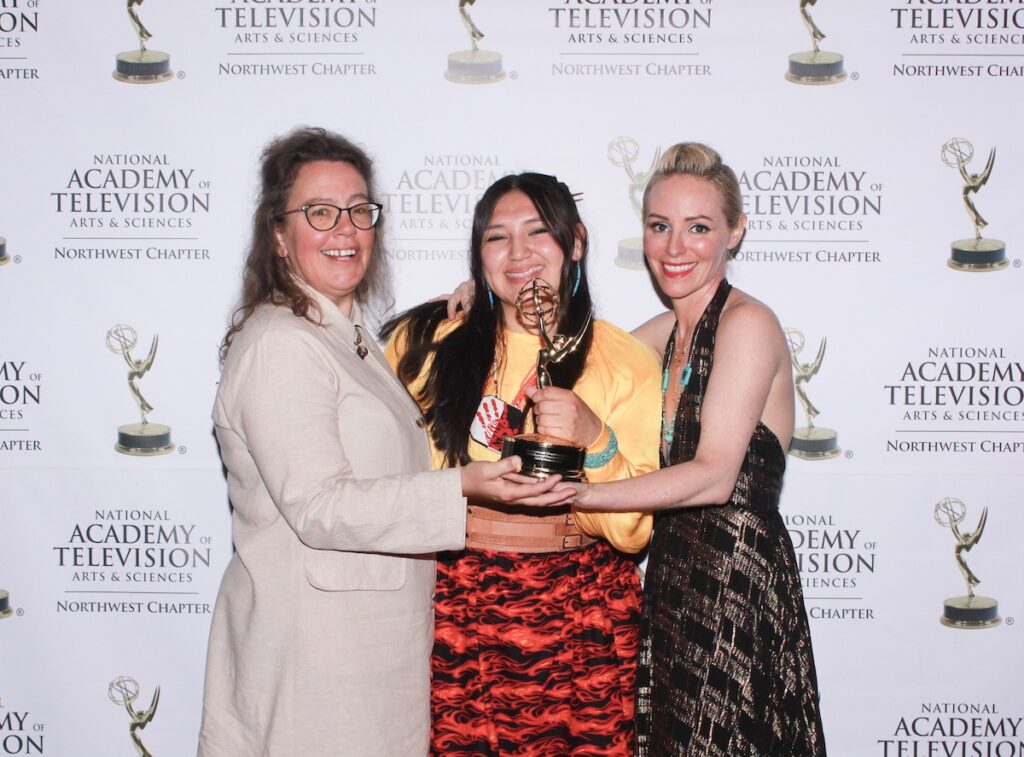 What is the Governor's Award?
The Governors' Award is the highest Award a local chapter can bestow.
For recognition of achievements by individuals, organizations or companies which do not fall within the structure of the Chapter's regular Area Awards. Historically, Board of Governors Awards are for truly outstanding and unique accomplishments or for achievements of some duration and durability. For this award an Emmy® Statuette is given. There is the possibility of one award, more than one award, or no award.
This award can be given to an individual, a company or an organization for outstanding achievement in the arts, sciences or management of television which is either of a cumulative nature or so extraordinary and universal in nature as to be beyond the realm of the awards presented in the categories of achievement.
We are humbled by this incredible honor! This award reflects every voice, experience, and story that we have been entrusted to share as an organization since 2004.
On behalf of MAPS, and the youth who are the beating heart behind the work we do!!!
---
NATAS NW names MAPS Media Institute:
Montana "Trailblazer of Diversity"
The "Trailblazers in Diversity" video project was created and led by NATAS NW diversity committee in the Spring of 2023. They wanted to take a thoughtful look back through the lens of diversity as they celebrate the 60th anniversary of the Northwest Regional Emmy™ Awards.
They produced one video for each of their five state regions which include Washington, Oregon, Idaho, Montana, and Alaska. They highlighted television professionals who faced and overcame obstacles. Many of these stories have never been shared before publicly. These are stories that need to be told and need to be heard.
This year, Montana's "Trailblazer in Diversity" is MAPS Media Institute.
---
NATIONAL PROGRAM AWARD
---
National Arts and Humanities Youth Program Award
MAPS was honored to receive the 2017 National Arts and Humanities Youth Program Award.
This award is given by the National Endowment for the Arts, the National Endowment for the Humanities, and the Institute of Museum and Library Services in cooperation with the National Assembly of State Arts Agencies.
To everyone in the MAPS community, past & present, this award is for YOU!
---
STUDENT AWARDS
---
2023 Film Awards
Waking the Amp Ska Pi Pikuni • Nizi Puh Wah Sin
(Southern Blackfeet • Real Speak)
Winner: Short Form Nonfiction
Regional Student Production Award
National Academy of Television Arts & Sciences, NW (2023)
---
2022 Film Awards
---
Waking the Generations
Winner: Long Form Nonfiction
Regional Student Production Award
National Academy of Television Arts & Sciences, NW (2022)
---
Silver Award Winner
Native Indigenous Student Academy for Cinematic Arts (2022)
Peaceful As a Buffalo
Winner: Long Form Nonfiction
Regional Student Production Award
National Academy of Television Arts & Sciences, NW (2022)
No Ordinary Time
Winner: National Student Production Award
National Television Arts & Sciences (2022)
---
Winner: Long Form Nonfiction
Regional Student Production Award
National Academy of Television Arts & Sciences, NW (2022)
I Am
Winner: Short Form Nonfiction
Regional Student Production Award
National Academy of Television Arts & Sciences, NW (2022)
I Am Strong
Winner: Short Form Nonfiction
Regional Student Production Award
National Academy of Television Arts & Sciences, NW (2022)
I Am a Warrior
Winner: Short Form Nonfiction
Regional Student Production Award
National Academy of Television Arts & Sciences, NW (2022)
Wolf Point WHY
Winner: Music Video
Regional Student Production Award
National Academy of Television Arts & Sciences, NW (2022)
---
2020 Film Awards
Looking Forward from Yesterday
Winner: Short Form Nonfiction
Regional Student Production Award
National Academy of Television Arts & Sciences, NW (2020)
---
Official Selection, Heart Award
Portland International Film Festival (2020)
---
Official Selection
Big Sky Documentary Film Festival (2020)
EAST
Winner: Short Form Fiction
Regional Student Production Award
National Academy of Television Arts & Sciences, NW (2020)
---
Official Selection, Excellence in Creative Self Expression Award
Portland International Film Festival (2020)
In This Together, We Are One
Official Selection
Big Sky Documentary Film Festival (2020)
---
2019 Film Awards
Browning Rising Voices
Winner: National Student Production Award
National Television Arts & Sciences (2019)
---
Winner: Short Form Nonfiction
Regional Student Production Award
National Academy of Television Arts & Sciences, NW (2019)
Aisitsimstā (Imagination)
Winner: Short Form Fiction
Regional Student Production Award
National Television Arts & Sciences, NW (2019)
Harlem Rap –
MT Style
Official Selection
Big Sky Documentary Film Festival (2019)
---
2018 Film Awards
Aisitsimstā (Imagination)
Winner: Best Of
42nd Fresh Films NW Film Festival (2018)
Iris
Honorable Mention
42nd Fresh Films NW Film Festival (2018)
---
2017 Film Awards
Everybody Needs Love
Winner: Award of Excellence
National Academy of Television Arts & Sciences, NW (2017)
Bitterroot Special Olympics
Winner and Heart Award
41st Fresh Films NW Film Festival (2017)
The Last Day
Honorable Mention and Heart Award
41st Fresh Films NW Film Festival (2017)
---
2015 Film Awards
Logger Days
Winner: Award of Excellence
National Academy of Television Arts & Sciences, NW (2015)
---
Winner: Best in Category
Western Montana Film Festival (2015)
Darby Rodeo
Winner: Award of Excellence
National Academy of Television Arts & Sciences, NW (2015)