MAPS STUDENTS ATTEND ANNUAL HATCH FESTIVAL IN BOZEMAN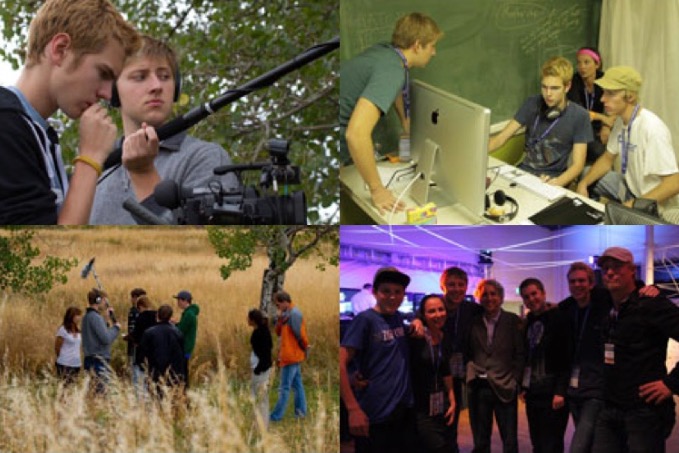 A group of Hamilton students in the MAPS Media Institute got a chance recently to work with some of the biggest names in the media and entertainment industries when they attended the annual Hatch Festival in Bozeman at the beginning of October.
During their visit, they participated in a journalism lab, received some intense mentorship from professionals, and produced a short film that was shown at the festival. The film featured interviews on the subject of "inspiration," and included the pontifications of festival speakers and guests.
"It was pretty spectacular," said MAPS instructor Erin Belmont, who took students on the trip. "Hatch Fest is all these creative people, from architects to fashion designers to filmmakers, getting together and sharing their ideas and experiences and inspiring each other. That's what it's all about. We got thrown into it, and the kids came back really fired up about it. It was awesome."
According to MAPS founder/president Peter Rosten, the Hatch Festival is one of the premier events in Montana for aspiring filmmakers.
"This is the largest event of this type that we have here in Montana," he said. "It attracts all types of music, media and film professionals. The kids got invited to work with the people at Chisel Industries, which is a big-time promotional company here in the state. So they really put in their time in the industry. And I was amazed by what they were able to get out of our kids in five days. Part of me is incredibly envious and jealous because I can't get that done in five days."
Students Ivar Ogden, Will Ponder, Cody Tredik, Craig Weese and Garrison Wood worked 16 hours a day while they were at the festival, according to Rosten. Weese, a senior, said the trip showed him what he can expect if he pursues a career in film.
"I got to meet a lot of interesting people, a lot of important people," he said. "It definitely prepared me for later in life. It was stressful at times, but it was good. I want to go to college for film, and they taught me what to expect and how hard I need to work if I want to succeed."
Rosten said the mentors were impressed with the work ethic of the Hamilton contingent.
"One of the compliments we got was how professional our kids are," he said. "That's what we stress, and that's why we keep getting clients. Our kids are taught that they have to be smart, professional and competitive. They know their way around a set, and when someone says 'Hey, we need a key- grip, or a gaffer' . . . not only do the kids know what those jobs entail, but they are quick to raise their hands and do it."
The kids were paired up with different mentors every day, each bringing a unique perspective to the students.
"The kids were working with Emmy award winners, filmmakers, journalists, musicians," said MAPS co- executive director Laura Henderson. "They filmed the whole thing, and when they were done they had a three-minute-long behind-the-scenes film. It was shown at the end of the festival to great acclaim. I got some great feedback from some of the mentors. Our kids are just on cloud nine. They learned so got some great feedback from some of the mentors. Our kids are just on cloud nine. They learned so much, they learned how to be even more of a professional."
Rosten said it speaks volumes about the program that his high-school kids can work with people who have been in the industry for years.
"The kids had different mentors with different skill sets," Rosten said. "And our kids were very professional. Here we have 14- to 18-year-old kids who are professionals. They hit the ground running, and by the time they left they had completed a project. It's very cool."
The MAPS Media Institute will be holding an open house on both Tuesday, Oct. 25 and Thursday, Oct. 27 from 4:30 to 6:30 p.m. There will be student film screenings, podcasts, photography and other presentations.