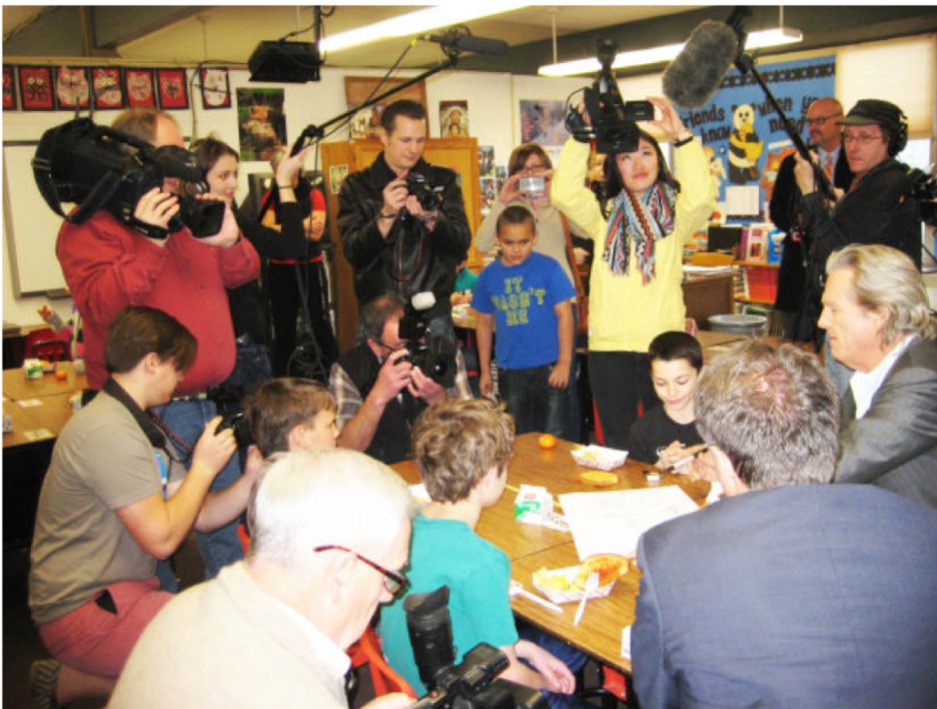 Peter Rosten, founder and CEO of the MAPS Media Institute, said the distribution is underway.
"The governor, No Kid Hungry and MAPS are putting a lot of effort to have the video seen in as large an area as possible," he said. "It's a great video."
On March 21, Montana Gov. Bullock, Academy Award-winning actor Jeff Bridges and Billy Shore of "Share our Strength" came to award Darby Elementary School for their "After the Bell" innovative breakfast program.
"The background was that we heard the governor and Jeff Bridges were coming, so I called Loyd Rennaker, superintendent of Darby, because it was Darby Elementary that was being honored, and I asked if we could cover it," said Rosten. "He said sure. Predictably, every news outlet also came."
MAPS students created a five-minute documentary about the event. Rennaker said, "We are proud of our school foods program for their innovative efforts to provide healthy and appealing meals for our students. It was an added bonus for MAPS to produce a quality documentary about our school's Breakfast in the Classroom Program."
The governor praised Darby and the school's work to provide food to students each morning, and its work to fight back against childhood hunger.
"One in five Montana students regularly comes to school hungry," said Bullock. "How can we expect our kids to do well in their classes when they're worried about where their next meal is coming from? The Darby School is taking innovative steps to address this important issue. And we're going to work to help other Montana schools follow suit." According to Mike Wessler, deputy communications director of the Governor's Office, the governor and his staff will "promote the video through our social media networks, as well as leveraging it to raise awareness about innovative approaches to tackling childhood hunger in the state."
Rosten said the MAPS students who produced the documentary were skilled. "Caleb Hallahan and Abbie Horlacher were the two MAPS filmmakers, both homeschooled," said Rosten. "They produced, photographed and Caleb edited. They are both really gifted."
Horlacher, a senior, will be attending BYU and Hallahan will be a TA for MAPS. "He is immensely talented," said Rosten. "We want to keep him involved with our program."
You can view the short documentary online at https://vimeo.com/96764318.
This year, marks MAPS' 10th anniversary and Rosten called it a "double whammy." While together for the breakfast award event, Bullock and Jeff Bridges wished MAPS a happy 10th anniversary in a short segment of video.
MAPS recorded the message and it can be viewed on line at http://www.youtube.com/watch? v=TRF4gvDa2DM&list=PL656925E8300E04C7
Visit the MAPS media website at mapsmediainstitute.com