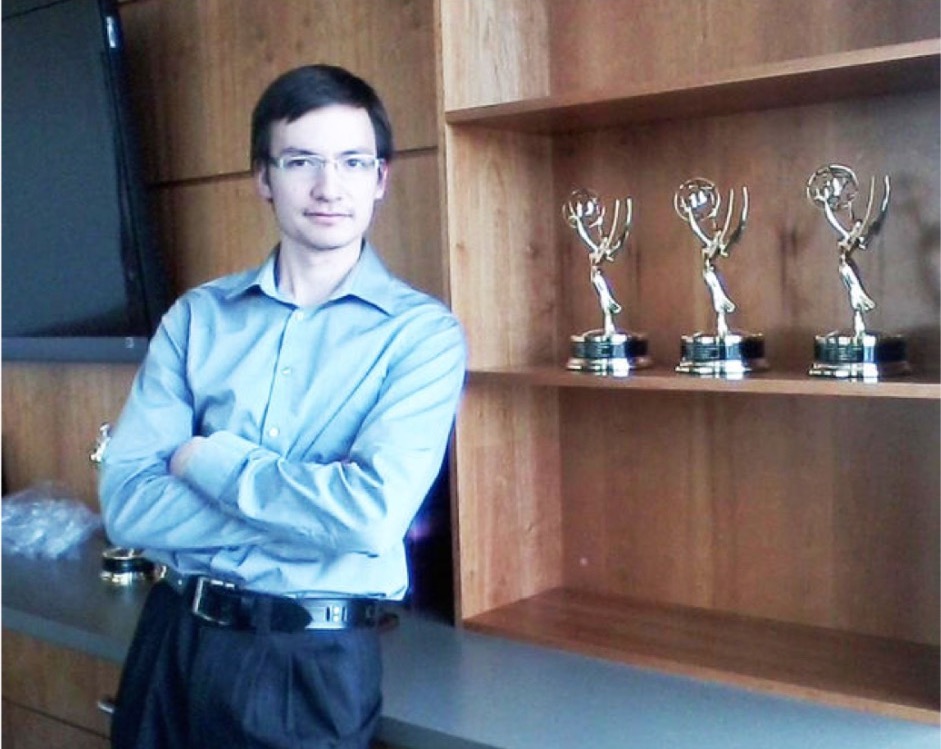 One of the first students to complete the MAPS Media Institute program in Hamilton won three Emmy Awards from the Southwest Chapter of the Academy of Television Arts and Sciences.
Luke McLean, on-air promotions editor for BYU Broadcasting, was awarded the honors for his work for BYU TV in the category of best promo campaign.
"The Emmy Awards recognizes achievement in the field of Television Entertainment and Broadcasting," said McLean. "It is a great honor to accept three of these awards, presented by the National Academy of Television Arts & Sciences.
"Having been a former MAPS student and raised in Ravalli County, I am in deep gratitude of the support Peter [Rosten] and his school program have offered in encouraging me on the path that I have chosen, in addition to the well-rounded upbringing that members of the Bitterroot Valley have given.
"Programs such as the MAPS Media Institute continue to present wholesome futures for Montana's youth and encourage their progressing path in education. I hope that teenagers and young adults in the Bitterroot Valley will continue to appreciate that coming from a small town shouldn't prevent one from achieving great things."
To receive the 2013-2014 Rocky Mountain Emmy Awards McLean edited the promotion program campaign – "Ready For More: BYU TV Sports."
Peter Rosten, founder & CEO of the MAPS Media Institute – now an afterschool program, said the awards reflect the quality of their program.
"Luke was one of our original MAPS students and this is an indication of how his MAPS training yielded terrific employment and a terrific well paying job and the honor of being recognized by the [SW Academy] as being the best in his field," said Rosten.
The MAPS Media Institute is an afterschool program teaching classes in music, technology, film and design. Rosten brings his 35 years of film and television industry experience to the program and often brings in other industry professionals.
Day to day instructors include Christian Ackerman – filmmaking, Clare Ann Harff – design, Timothy Kolberg – music and technology and Mika Virtaneva – design.
The MAPS afterschool program presents 32 weeks of instruction free of charge to nearly 80 registered students – public and home-school students grade 8-12. This is made possible by the non-profit Irwin & Florence Rosten Foundation, donations, fundraising and grants.
The MAPS afterschool program receives funding and guidance from Montana's OPI 21 Century Community Learning Center grant program.
Superintendent Denise Juneau said the after school programs help young people develop life skills.
"The centers help young people develop skills for living and working in today's economy such as working productively in teams, assuming personal responsibility, problem solving, communication with others and making healthy life choices," said Juneau in an email. "These are the kind of skills that help keep students on track for high school graduation as well as prepare them to excel in life after high school."
Rosten said the MAPS program is in their second five year cycle with 21CCLC.
"What this means is that our original award was reduced by 40 percent because one of the 21 Century goals is for their programs to become self-sustaining," said Rosten. "Thankfully, MAPS was able to fill this $50,000 gap via client fees and other grants."
"Client fees" does not mean the students pay but rather the program is hired to do high quality production work in film, television, design and music.
Paying customers include the Montana's Office of the Governor, State Farm Insurance and the Center for Disease Control.
MAPS also focuses on service-learning where students donate time and talent producing Public Service Announcements for community organizations like the Montana Hope Project and the Linda Massa Youth Home (formerly known as the Bitterroot Youth Home).
Rosten noted that McLean's father, Joe, is a MAPS board member and owner of the Pharaohplex movie theatre in Hamilton.