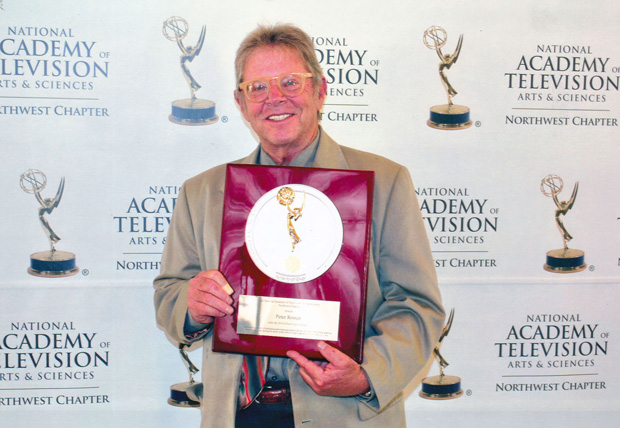 The MAPS Media Institute is growing stronger with another year of recognized success. MAPS Media CEO and founder Peter Rosten was honored, MAPS staff was promoted and replaced and productions were awarded. MAPS begins its 13th year of programming with new community partnerships and student opportunities.
Rosten, MAPS Media CEO and founder, was inducted into The National Academy of Television Arts and Sciences, Northwest Chapter's "Silver Circle" in Seattle, June 3. This recognition is awarded to media professionals who began their careers in television at least 25 years ago.
"I have 47 years in the industry and in three years I'll qualify for the gold circle," Rosten said. "The kids made a fabulous video that is a history of my productions to show at this induction event. Sometimes it is great to be the old guy."
This year MAPS Media Institute received the NATAS NW "Awards of Excellence" for their Darby Rodeo and Darby Logger Days videos. Both videos were financed by the Montana Film Office and these honors are the equivalent of student EMMY awards.
In 2014 and 2016, the President's Committee recognized MAPS as one of the top 50 afterschool programs in the country in the arts and humanities.
The MAPS "Media Festival" at the Pharoahplex Theaters attracted record attendance of students, families and community members. The festival also featured the debut of "Everybody Needs Love" a music video project sung, performed and produced 100 percent by MAPS students. View it at mapsmediainstitute.com.
The MAPS Media Institute has announced several staffing changes.
MAPS film instructor Christian Ackerman is the Media Arts teacher at Corvallis High School with classes starting this fall. Replacing Ackerman is Missoula filmmaker Dru Carr who received his M.S. in Environmental Studies from the University of Montanan in 1996 and then co-founded the independent filmmaking team High Plains Films in 2000. He has received several nominations and awards for his work as a documentary filmmaker. Carr is also a founding board member of the Big Sky Film Institute, which runs the Big Sky Documentary Film Festival.
"Dru is an extraordinary find," Rosten said. "Six years ago Dru wouldn't have taken this job. That tells you how far our program has advanced. He'll add a whole new dimension to our film program."
Carr will teach the MAPS summer session that begins July 5.
"MAPS has established a professional level for high school media arts programming, and I am honored to join this accomplished team," Carr said. "I've been producing films for the last 20 years. My goal as a part of MAPS will be to help young artists engage in, and view more critically, the world around them through the craft of filmmaking."
Current MAPS staff Clare Ann Harff and Tim Kolberg have received promotions.
Clare Ann Harff is the new president of the MAPS program. She will continue as program director, design and entrepreneur instructor. Tim Kolberg, music and tech teacher, is now also the vice president.
Rosten said, "These new executive duties and titles reflect their enormous contributions to the program's growth and success."
"I have agreed to stay with MAPS until I'm 70. I'm now 67," Rosten said. "Clare Ann and Tim have performed at such a high level for years and she is my successor. I could stop tomorrow and we would be in great shape. I felt it was time to acknowledge her in public. People see her as a teacher or program director but with an executive title the community will see how important she is to our program."
This summer, MAPS has new programs underway.
MAPS is a host site for a national VISTA service member developing the curriculum for a new MAPS course called MAPS Works: Connecting Community Through Media Arts.
Rosten said this service-learning program continues MAPS's "pro bono work" and engages student production crews in the Bitterroot community. The first production is documenting the 11-week Cultivating Connections Youth Farm Internship offered at Homestead Organics in Hamilton.
MAPS students are documenting the program as the students tend, harvest and donate over 200 pounds of fresh, local, organic produce to the Ravalli County Council on Aging's Meals on Wheels program. The final program will connect the art of growing food with the art of sharing stories.
MAPS is hosting a summer program for its second year beginning July 5. The program is four weeks long and students will create one specific production.