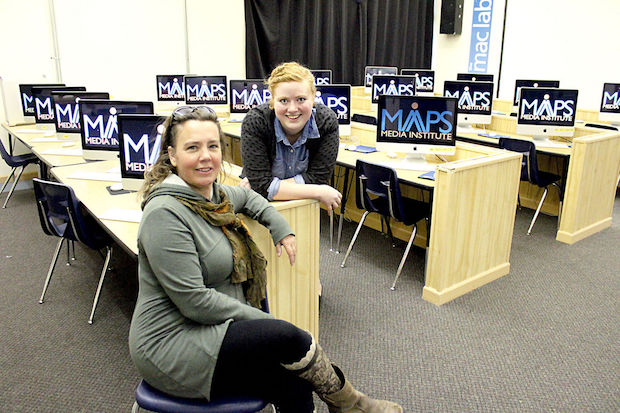 The successful MAPS program with staffing changes, is starting its 13th season of programming and is hosting an open house Tuesday, Sept. 13.
MAPS Media Institute, the afterschool hands-on technology-learning center, offers free classes to all Ravalli County students in grades 8–12.
The community is welcome to tour the MAPS studios, meet the staff and learn about MAPS classes during the open house is from 4:30 to 6:40 p.m. on Tuesday, Sept. 13, at 515 Madison St. in Hamilton.
Peter Rosten, MAPS founder and CEO, has freed himself up to do special projects by hiring Clare Ann Harff as president and program director. Rosten will continue to develop MAPS business model and all growth while Harf will manage the day-to-day business, programming and serve as the point person for the community.
Rosten said he is "excited about the future."
"Clare Ann is just extraordinary," Rosten said. "The job that I have now is I'm still l CEO but I get to do the things I want to do. These changes are a natural growth spurt for MAPS to ensure we can continue and exceed the results that we have had for the last 12 years. 2004 was the start and so many people have pushed us on this path and look where we ended up."
MAPS begins its 13th year of afterschool media arts programming with a full slate of classes on Monday, Sept. 19. Classes in design, film, music, technology and entrepreneur continue with new film instructor Dru Carr and AmeriCorps VISTA Kate Welch.
Missoula filmmaker Carr received his M.S. in Environmental Studies from the University of Montana in 1996, and then co-founded the independent filmmaking team High Plains Films in 2000. He is also a founding board member of the Big Sky Film Institute, which runs the Big Sky Documentary Film Festival.
Carr said he values the high standards set by MAPS.
"MAPS has established a professional level for high school media arts programming and I am honored to join this accomplished team," he said. "I've been producing films for the last 20 years. My goal as a part of MAPS will be to help young artists engage in, and view more critically, the world around them through the craft of filmmaking."
MAPS is hosting an AmeriCorps VISTA service member for the first time.
Welch, a graduate of Western Washington University, said she is excited to work with MAPS.
"Arts education is something I've always been passionate about," Welch said. "In college, I was a reporter, photographer and editor of The Planet, a quarterly student magazine. This experience taught me how important media is in our lives and in society. I find it inspiring that MAPS is dedicated to teaching media skills to students in a rural area that wouldn't otherwise be learning them."
Welch will work with MAPS staff to develop a new community based service-learning program called MAPS Works: Connecting Community Through Media Arts. The program engages MAPS student production crews in the Bitterroot community by producing a series of brief public service production crews in the Bitterroot community by producing a series of brief public service announcements for local nonprofits.
Harf said MAPS student production crews have produced many PSA's and short documentaries for local, state and national organizations in the past 12 years.
"While MAPS has successfully demonstrated the importance of giving back to your community with client-based productions, Kate will assist in developing MAPS Works and making it an integral and sustainable class, in our year long programming," Harff said. "It will also significantly increase the number of organizations MAPS can serve in this creative and civic capacity."
MAPS has received numerous awards for both production quality and investment in youth.
In 2014 and 2016, the President's Committee on the Arts and the Humanities recognized MAPS as one of the TOP 50 after-school programs in the country, an award recognizing work providing excellent arts and humanities learning opportunities to young people.
Rosten said MAPS continues to be a great experience.
"The irony of this journey is that is has become the most fulfilling professional experience of my life," Rosten said. "I had a very good career for 35 years in Hollywood. It does not come close to what MAPS delivers every day in personal satisfaction."
MAPS free-of-charge after school classes begin Monday, Sept. 19. For more information visit on-line mapsmediainstitute.com or call 406-381-7230.