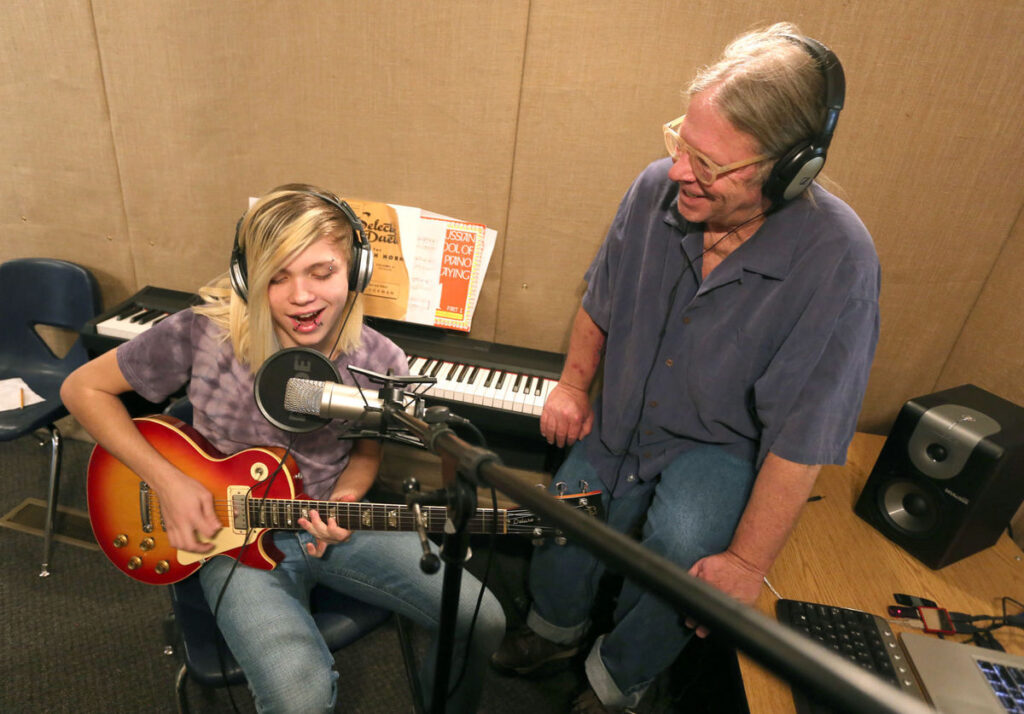 HAMILTON – MAPS Media Institute founder and CEO Peter David Rosten died Tuesday, April 18, after an eight-year battle with bone cancer.
Rosten was well-known in Montana and beyond for his work with young people, using filmmaking to teach them self-confidence, leadership, creativity, communication and empathy to prepare them for success in life.
Rosten was born in 1949 and grew up learning his love of art from his parents. His mother, Florence, was a visual artist and his father, Irwin, was an Emmy award-winning documentary filmmaker.
Rosten started in the television industry as an editor in 1969, then produced rock-n-roll documentaries including "Elvis" and "The Last Waltz." He credited his success to his mentors, including Academy Award-winning director Martin Scorcese. He worked in television, including on the prime time series "Scarecrow and Mrs. King," for 20 years, as well as on feature films including "True Believer" starring James Woods and Robert Downey Jr.
In 2002, after 35 years in the film and television industry, he relocated to Darby. There, he discovered a passion for teaching, valuing students' spontaneity, openness and willingness to learn new technology and tools of the film trade.
In 2004, Rosten created Media Arts in Public Schools (MAPS) by establishing a technical class for students in Corvallis Middle School.
Kori DePauw was in that first class. She is now a union steward in Film & Television for The Union of British Columbia Performers.
On Thursday, DePauw said she felt a "deep sadness" at the loss of Rosten.
"He was an amazing mentor who got me excited about film, encouraged me to explore education opportunities like the University of British Columbia's Film Production Program and maybe even helped my parents feel a bit more comfortable with their daughter going to university in 'foreign' Canada," DePauw said. "His reassurance and evaluations of my work spanned long past my graduation day, and served to both encourage me and prepare me for the amount of dedication and passion that this Industry requires."
The popularity of that first program inspired Rosten to create the MAPS Media Institute, a profit providing a rigorous hands-on program. Rosten's after-school program served high school students county-wide. The curriculum expanded to include science, technology, engineering, the arts and math (STEAM).
MAPS students learned technical and business skills in filmmaking, technology, music, design and entrepreneurship along with life skills such as critical thinking, responsible use of social media, networking, innovation, communication, team work, leadership and problem-solving.
Rosten helped students "find their voices" through the arts at what has grown into a year-round, tuition-free after-school and summer program. Rosten hired staff to teach graphic design, filmmaking, music production, digital animation and entrepreneurship to students in grades 8-12.
He sought real-world experiences for his students, believing that direct contact with clients provides a valuable learning experience and an opportunity to give back to the community.
Students created free productions for the community and state that focused, among others, on the Hamilton Farmers Market, Garden of 1,000 Buddhas, St. Mary's Mission, Bitterroot Winter Special Olympics, the Darby Rodeo and Darby Logger Days.
MAPS graduate Garrison Wood studied film at MAPS from 2009-2012, worked as a teaching assistant the following year, then pursued photography, working around the world.
"When Peter barged into my life and appointed himself my mentor, he left an impact crater that was wholly unique," Wood said. "Passion, expression, individuality; through these things you create purpose and move mountains."
MAPS Film Instructor Dru Carr said Rosten made the Bitterroot Valley a better place.
"The young people that have walked through the doors of MAPS have been forever changed, positively, by Peter and what he created here," Carr said. "Peter taught students how to think critically and independently, tap the potentials of their creativity, and go to places beyond their wildest expectations."
The program received recognition and accolades for the quality of production and the impact on participants.
Rosten was appointed as a "Montana Ambassador" by Gov. Steve Bullock and inducted into the "Silver Circle" of the National Academy of Television Arts and Sciences, Northwest. Rosten was the Bitterroot Chamber of Commerce's Business Person of the Year in 2015.
MAPS was honored as one of the TOP 50 after-school programs in the United States by the President's Committee on the Arts and Humanities in 2014 and 2016.
The MAPS partnership with the Montana Film Office earned two "Awards of Excellence" (the equivalent of an Emmy Award) for student work.
MAPS Executive Director Clare Ann Harff said Rosten left many gifts.
"The one he was most proud of was creating a place where students would be challenged to be better human beings and to search for something beyond themselves in the service of others," Harff said. "Yes, he started an inspiring school and production studio, but he also taught us that service to others is the greatest measure of our success. He showed it every day in his own actions and challenged us all to live by his example."
Harff said MAPS programming will continue to honor Rosten and his legacy of service. The goal is to have MAPS programming across Montana.
The program was awarded a three-year AmeriCorps VISTA service member position to assist with developing a community-based, service learning class "MAPS Works: Connecting Community Through Media Arts."
In April, MAPS launched its first pilot program outside the Bitterroot Valley. A partnership with the Salish-Kootenai College was created for a free, eight-week after-school film class for Lake County/Flathead Reservation students. In June, MAPS will host on-site filmmaking workshops in both St. Ignatius on the Flathead Reservation and Browning on the Blackfeet Reservation, in partnership with GEAR Up Montana.
Rosten's wife, Susan, said MAPS was his dream and vision.
"Peter retired in the Bitterroot Valley after a successful Hollywood career," she said. "He was enamored at the honesty and sincerity of the people here, most especially teenagers. MAPS is his proudest business accomplishment. He retired knowing that Clare Ann, MAPS staff and the entire Montana community would continue his legacy in ways he never dreamed or imagined."
A memorial service for Peter Rosten will be held noon to 3 p.m. Saturday, June 3, at the Hamilton Performing Arts Center, 327 Fairgrounds Road, Hamilton.