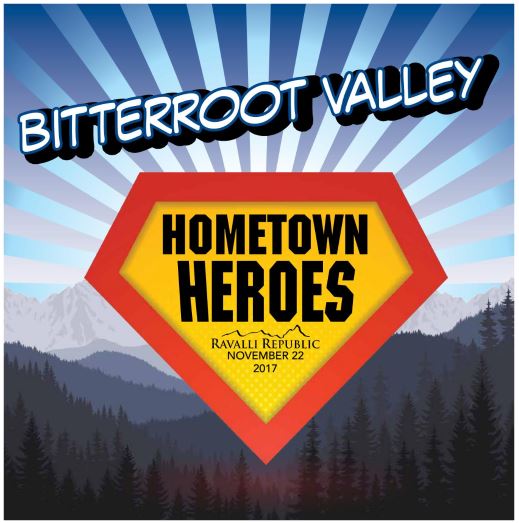 Excerpt taken from 'Bitterroot Valley Hometown Heroes' pp 6-7
Media Arts in the Public Schools (MAPS) Media Institute Executive Director Clare Ann Harff is a hometown hero, according to Ravalli County Fairground Manager Cryss Anderson.
"Clare Ann is doing a tremendous job, filling big shoes," Anderson said. "She is not only carrying on the legacy of (MAPS Founder) Peter Rosten, but she has done so while working through the tumultuous grieving process. She has been faced with an uphill battle, and she is an inspiration to all of whom appreciate hard work and perseverance."
Anderson said Harff's dedication keeps MAPS "thriving in our valley, and providing world-class opportunities for our youth."
The Media Arts in the Public Schools (MAPS) program teaches life skills around Science, Technology, Engineering, Arts and Math (STEAM) using technology, design, film, music, and entrepreneurship. The classes are free to students in grades 8-12 in Ravalli County, three reservation sites, and the goal is to offer MAPS programming and opportunities across the state.
Harff said she is passionate about access to creative tools and inspiring people – what she calls "fundamental ingredients to a healthy, vibrant community."
She said creativity is a deep source of her personality and purpose.
"It's available to us in everything: whether you're a visual artist, writer, education,scientist, parent, day-dreamer – whatever your role. Creative thinking and collaboration are critical to any community's economic success, "Harff said. "They can generate both personal and community pride, create a sense of belonging and purpose and help us remember we all share responsibility in creating 'our community' whether it's our small rural town or our nation."
Harff move to Montana in 1992 because of a kiln at the University of Montana.
"At that time, the University of Montana was one of the only western universities with a Japanese style of wood fired kiln," Harff said.
"I dedicated many years to learning that process with an amazing group of talented artist."
After she received her Bachelor of Fine Arts in Ceramic Arts, Harff co-founded The Clay Studio of Missoula (CSOM) in 1998 with her friend Rob Taylor. She served as executive director for the first five years and continued as an active board member until 2013. CSOM is celebrating 20 years in 2018 and is a recognized arts leader in Montana and across the country.
Harff also was a founding partner of 4 Ravens – a collaborative gallery located in the heart of downtown Missoula.
"Artists and entrepreneurs share many similar traits – determined independence, risk takers, and the drive to turn an idean into a reality," Harff said.
In 200, Harff moved to Corvallis to start a family, and build a home and studio. For the next 13 years, she owned and operated Blue Horse Pottery, was a visiting artist in several Bitterroot Valley schools, an active member in the Hamilton Farmer's Market Co-op, and a dedicated community artist-activist.
In 2013 her life took an unexpected turn when Peter Rosten hired her to join the staff at MAPS Media Institute. She contributed her experience in non-profit art management and arts education in the public schools.
"Peter observed me teaching and interacting with students over the years," Harff said. "While he originally hired me to teach the design program at MAPS, my responsibilities quickly grew."
Harff was promoted to program director in 2015 and executive director in 2016.
"Peter was not only my business partner, we were kindred spirits," she said.
The MAPS Media Institute's unique curriculum fosters creativity and builds communication skills by providing rigorous, hands-on, and creative opportunities to equip students for academic, social, and professional success.
Glenda Wiles, Ravalli County DUI Task Force Coordinator, said when MAPS started its media arts program, the Ravalli County DUI Task Force was their first public service video production aired on local television.
"Since then we have partnered in many video productions," Wiles said. "The students excelled under the direction of founder Peter Rosten, and we see first-hand how the program continues to excel under the leadership of Clare An Harff. Peter picked good-because Clare Ann is firmly committed to the programs MAPS has in our community."