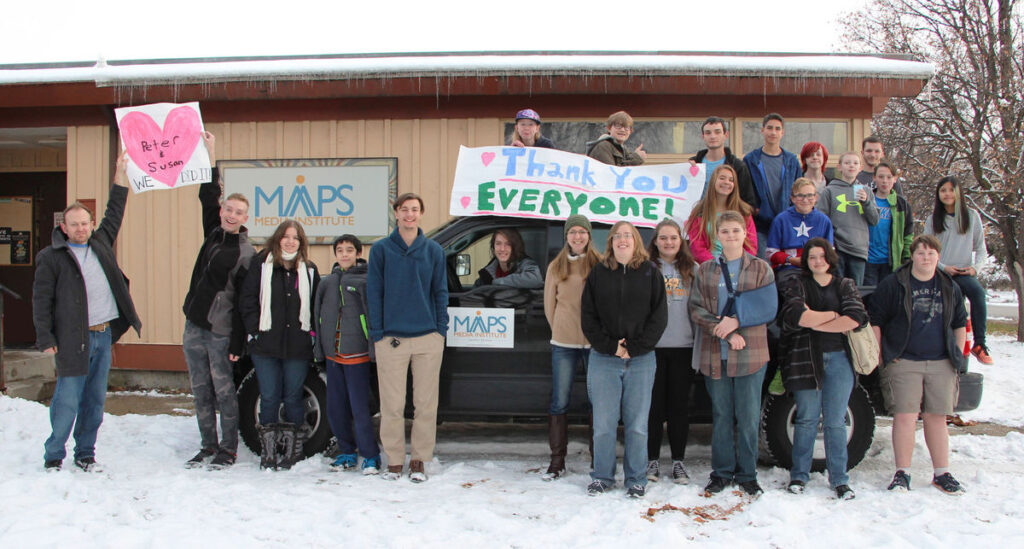 Leaders of the Hamilton-based MAPS Media Institute are in Washington, D. C., today to be honored by federal arts and culture agencies as one of the best after-school and youth development programs in the nation.
The awards for MAPS effectiveness in engaging youth in the arts or humanities come from National Endowment for the Arts, National Endowment for the Humanities, Institute of Museum and Library Services, and National Assembly of State Arts Agencies.
MAPS, the brainchild of the Irwin and Florence Rosten Foundation, Inc., will be recognized for "achieving a wide range of positive outcomes, including increases in academic achievement; growth in graduation and college enrollment rates; and improvements in literacy and language abilities, communication and performance skills, and cultural awareness," according to the press release.
Clare Ann Harff, executive director for MAPS, said the award is quite an honor. "It recognizes the dedicated work of the entire MAPS community: founders Peter and Susan Rosten, students and families past and present, funders, clients, and our community supporters," Harff said. "It reinforces MAPS core belief that investing in our youth is investing in our future. By creatively engaging students through relevant media arts, MAPS better prepares them for success in school, in their careers and in their community."
Media Arts in the Public Schools teaches life skills around Science, Technology, Engineering, Arts and Math (STEAM) using technology, design, film, music, and entrepreneurship. The classes are free to students in grades 8–12.
MAPS founder Peter Rosten began the program in 2004 as an in-school class at Corvallis schools. MAPS is now an after-school program in Ravalli County and has expanded to three reservations, with a goal of developing a statewide educational program.
Peter Rosten passed away in April 2017, leaving a legacy of curiosity, learning, humor, and hope. He retired from a successful behind-the-scenes Hollywood career to Montana and, according to his wife, Susan Rosten, "He was enamored at the honesty and sincerity of the people here, especially teenagers. MAPS is his proudest accomplishment."
Peter Rosten was a 2016 Silver Circle inductee of the Northwest Chapter of the National Academy of Television Arts and Sciences. A 2015 New York Times article presented Rosten's vision and work for Montana's rural youth.
Chosen from 285 nominations, MAPS is one of 12 national awardees recognized as leaders in creative youth programming. Some of the other after-school programs selected are from Florida, New York, Illinois, Massachusetts, Arizona, and Canada.
"It's a big deal," Harff said. "We are the second organization from Montana to ever receive this award. The first one was the Orphan Girl Theatre years ago."
Samentha Moore, associate of the National Arts and Humanities Youth Program, said the youth programs that are being honored are inclusionary.
"The majority of the thousands of kids each organization serves are predominantly African American, Latino, and other students in communities of color; teens in rural areas in the West and some Native American reservations; children and teens with disabilities and special needs; and youth in economically disadvantaged communities throughout the country," Moore said. "Most of the 14 students coming this year to receive the award or perform at the ceremony are students of color."
The ceremony on Thursday will include a live performance by vocalist Lourde Childs and pianist Michael Rodriguez, from the Phoenix Conservatory of Music's College Preparatory Program and remarks by youth speaker, Samantha Joseph from the Newark Museum Explorers Program.
The ceremony will be live streamed today at 1 p.m. EST: https://www.youtube.com/channel/UCUp7ViZEhp786dPOmJn0rsQ
MAPS was among the top 50 finalists for this award in 2014 and 2016. In addition to national recognition, MAPS will receive $10,000 to support its programming end engage more Montana youth.
The MAPS team has recorded Montana leaders congratulating them on their award. Those videos featuring Governor Bullock, Superintendent Arntzen, Montana Arts Council, and the Montana Film Office can be seen at https://www.mapsmediainstitute.com/
Cinda Holt of the Montana Arts Council said the MAPS Media Institute has become not only an exemplary organization, but also is considered the Gold Standard of arts-driven youth education of youth in the Treasure State.
"MAPS turns under-served students into capable media artists and communicators, and is truly a life-changing program for its participants," Holt added.
In a press release from MAPS, Gov. Steve Bullock said the organization makes a positive difference.
"MAPS better prepares our Montana students for the jobs of the future while they explore their passion in the media arts," he said. "While this award is for everyone, without Peter Rosten, there would be no MAPS. Peter was always willing to share his talents and make the world around him a better place."
Sen. Jon Tester visited MAPS last year.
"I was impressed with both the high quality of their work and the enthusiasm of the students," Tester said in the MAPS press release. "Investing in the arts makes our communities stronger and more vibrant and it opens the doors to new ideas and innovation."
MAPS student Myles Smith said MAPS is where he gets to be creative and work with students from all over the valley.
"We learn about making art, but we also learn how to communicate and gain confidence by bringing our ideas to life," Miller said. "All high school kids should have a place like MAPS."
For more information about the MAPS Media Institute, visit mapsmediainstitue.com. For more information about the National Arts and Humanities Youth Program Awards, visit nahyp.org/.