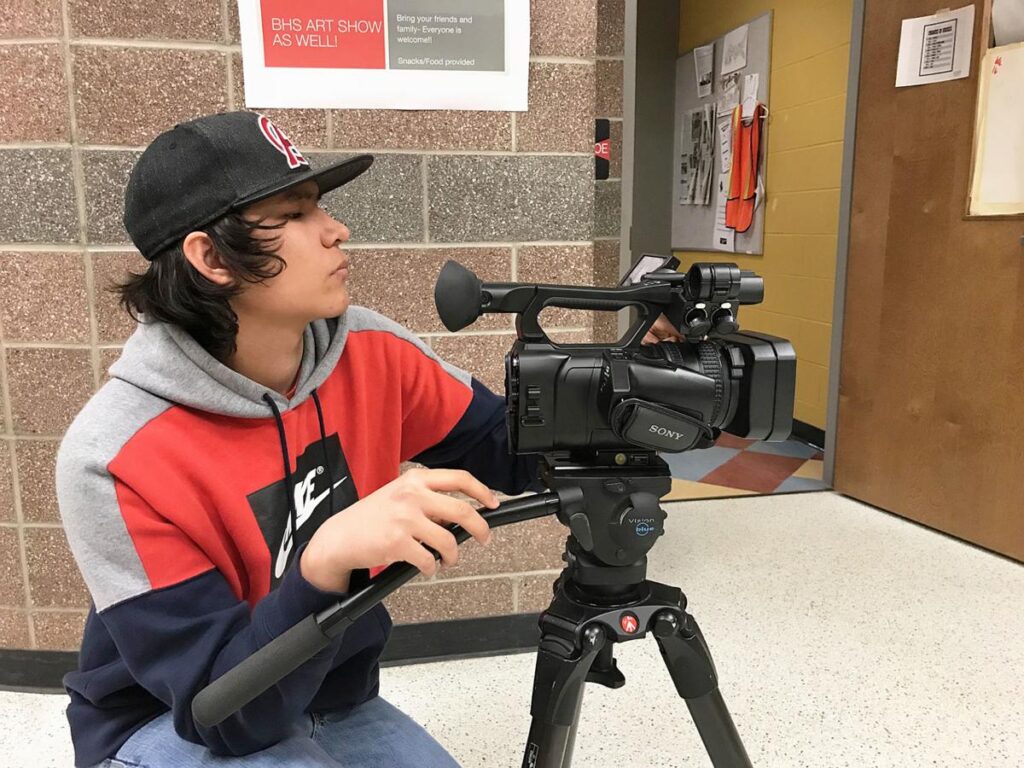 Two extraordinary films created by students in Montana's reservation communities have been selected for presentation at the prestigious 2019 Big Sky Documentary Film Festival.
Both productions were made possible by the professional filmmakers and outreach efforts of the MAPS Media Institute in Hamilton.
On the Blackfeet Indian Reservation – Rising Voices, at Browning High School – teaches students how to write and perform spoken word poetry, empowering students to express themselves and their experiences growing up in a rural, predominantly Native American community. Browning teenagers worked with a film crew and state-of-the-art equipment provided by the MAPS Media Institute, to produce a 10-minute film about the program, "Browning Rising Voices."
The film incorporates footage of the spectacular East Front Range with Blackfeet language, Blackfeet music and students sharing original poems and their feelings about what learning to write original work means to them. The persuasive and powerful teaching of spoken word poet Tahj Kjelland and his Express 2 Speak program, sponsored by Humanities Montana, also is featured in the film. Support from the Greater Montana Foundation brought to fruition this vision of a student-created film about the work of Rising Voices.
"Browning High School is rich with exceptionally gifted and inspired writers and performers," said MAPS Media Lab Director Dru Carr. "MAPS was so privileged to be able to work with them. In just a few days of filming, we were able to capture and bring to life their spoken word pieces. The students shot the film, working with MAPS and Browning instructors, to create their own scenes that would illustrate their original poems. The film is a culmination of that imagination."
A second film chosen for the 2019 Big Sky Documentary Film Festival line up — the two-minute Harlem Rap — was conceived and produced by students living on the Fort Belknap Reservation near Harlem, Montana.
The film not only demonstrates the eloquence of expression residing in Montana's remote areas, but is also an example of the MAPS Media Institute's commitment to serving students in these communities.
In 2017 the MAPS Media Institute was honored with a National Arts and Humanities Youth Programs award, one of 12 nationwide given to after school programs, for its work of bringing media arts skills to Montana's rural and Reservation communities.
"We are excited and impressed by what these students have accomplished in these films," said MAPS Executive Director Clare Ann Harff about the Big Sky Documentary Film Festival entries. "The main goal of the MAPS Media Lab statewide outreach program is to provide impactful media arts experiences to Montana's rural and reservation youth."
"Browning Rising Voices and Harlem Rap are inspiring examples of how students can document and share their powerful stories," Harf said. "Being selected to screen at the Big Sky Documentary Film Festival adds to that empowerment, for it proves that people are listening and that student stories do matter."
The 16th annual Big Sky Documentary Film Festival is February 15-24 at downtown Missoula venues. Complete information can be found on their website at www.bigskyfilmfest.org/.