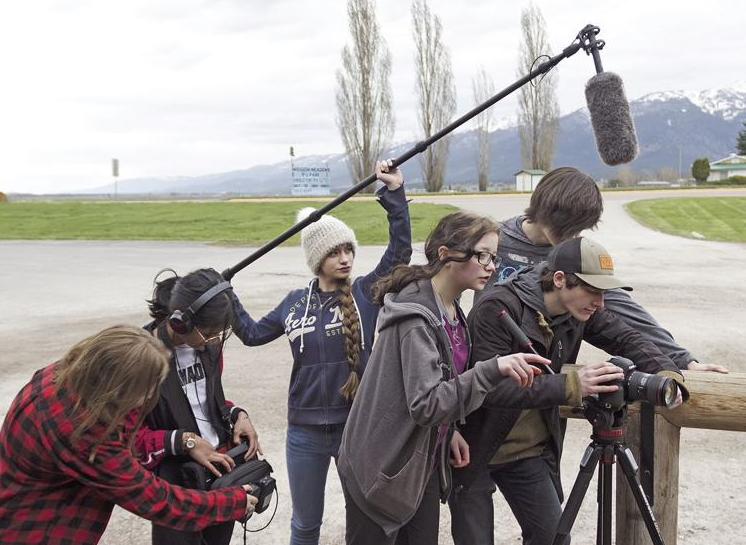 RONAN — On Thursday, May 23, at 6 pm, the MAPS-Lake County Film Class will present a screening of their film A Day to Remember at the Boys & Girls Club of the Flathead Reservation and Lake County. A question and answer talkback with the student filmmakers will immediately follow the screening.
Here's the basic plot: A group of teenagers awake in a mysterious room with no recollection of how they got there. They must work together to find a way out and piece together the mystery of why they're there. As they attempt their escape, it all becomes strangely familiar. A Day To Remember is a humorous exploration of the importance of working together and the risks we take to do what is right.
This year, 25 students participated in the free-of-charge MAPS-Lake County film class, which extended from March to May. Students, grades 8th-12th, from four school districts and the homeschool community took part. The class was hosted by the Boys & Girls Club of the Flathead Reservation and Lake County and Aric Cooksley, the Executive Director says "What a privilege to partner with MAPS and get to watch high school students grow and thrive in a world many only watch on the big screen."
The MAPS Media Institute is recognized as one of the top creative youth development programs in the country, receiving a National Arts and Humanities Youth Program award in 2017. Established in 2004 in Ravalli County, MAPS teaches media arts in afterschool and summer classes, The MAPS Media Lab is their statewide educational outreach as part of their curriculum bridges filmmaking, graphic design, music production, computer science, entrepreneurship and community service. Through hands-on instruction from professional artists and state-of-the-art equipment,, students learn technical media skills, participate in real world work experiences and are taught how to apply these skills for future success. MAPS student-produced films regularly win regional awards and in 2019, two MAPS student productions were selected to screen at the Big Sky Documentary Film Festival. MAPS Executive Director Clare Ann Harff says, "At MAPS, we believe students have inspiring stories to share. Our mission is to mentor these students through professional media arts experiences and help them "Find Their Voice". Partnering with community organizations like the Boys and Girls Club of the Flathead Reservation and Lake County is critical to our program expanding across the state."
In 2017, in partnership with Salish Kootenai College, MAPS launched its first pilot program outside of Ravalli County with an eight-week film class to students of the Flathead Reservation and Lake County. In 2018, the class was extended to ten weeks. The 13-week 2019 MAPS – Lake County film class was made possible through a National Endowment for the Arts Art Works grant.
The goal of the film class was to immerse students in the process of filmmaking and collectively create a compelling film, from pre-production to post-production. Michael Workman and Dan Malloy were MAPS film instructors for the class. Workman described the process of the class, "We began by introducing the students to storytelling principles such as Three Act Structure, character development, and plot reversals. The class then split into two groups, one to write the script, secure locations, design costumes, and make props, and the other to learn production techniques like camera, lighting, sound, and set protocol. Once the script was ready and the production crew was trained, we held auditions for actors. Those students not selected in auditions were given a chance for other roles in the film. The students led the production process while the instructors kept them focused and on task to complete the film in a short amount of time." Helen Smith, a student teaching assistant says, " I learned so much about the art of filmmaking. Before, I only had a vague idea of everything that actually went into making a short film, but this class took me step-by-step through the entire process, from brainstorming in the writer's room to filming and directing and editing. I learned about everything that really goes on behind the cameras, and have developed a much deeper appreciation for filmmaking as a result."
According to Molloy, "Teaching filmmaking to high school students is important because above the tangible, hands on experience, filmmaking teaches teamwork and communication. My hope is that these young artists learn not only about film and filmmaking, but how to articulate what is needed to get done, how to communicate with each other, and how to work together for the greater good. Working in film can be stressful work, but as in life, if you can communicate, and articulate a concise plan and needs with yourself and your team – the chances of success skyrocket."
The A Day to Remember will screen at 6pm on Thursday, May 23 at the Boys and Girls Club of the Flathead Reservation and Lake County, 62579 US Highway 93. This event is free-of-charge and everyone is welcome. Refreshments will be served. For more information, please call MAPS Media Institute at (406) 381-7230 or visit mapsmediainstitute.com