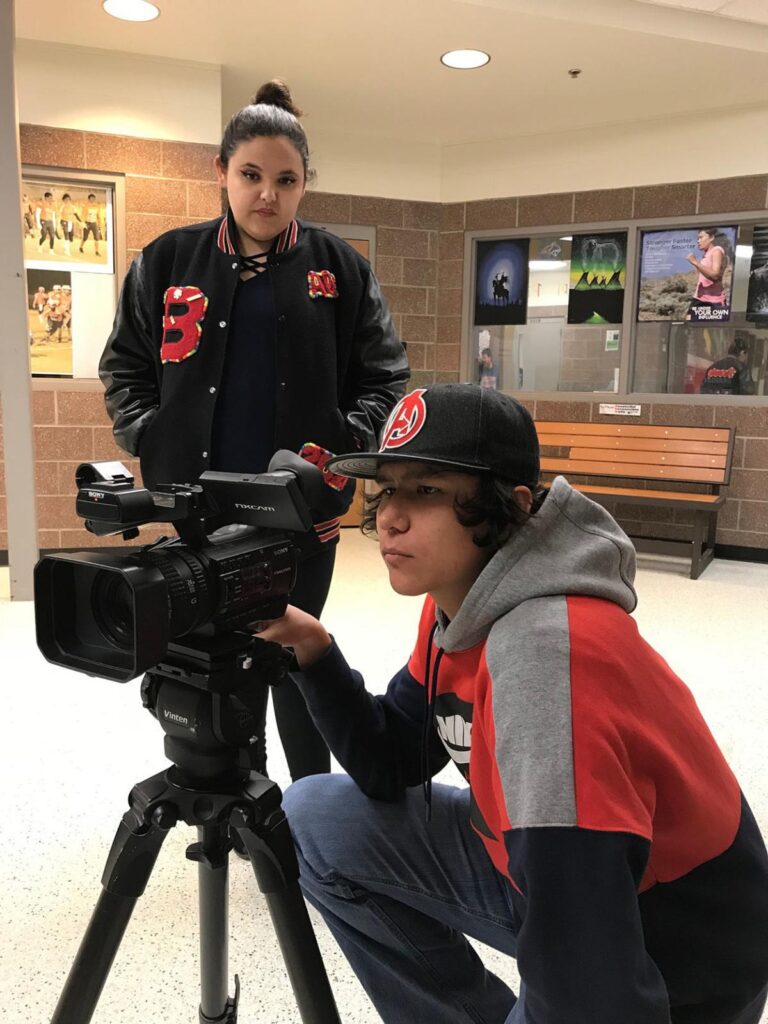 They're 140 miles apart and from two different areas of the creative spectrum, but Browning High School's poetry club and the Art for Survival group at Helena's Holter Museum of Art have a lot in common. Both groups serve high school students by helping them find creative expression. Both groups hosted the MAPS Media Institute Media Lab, where students learned how to tell their story on film. Each of those films received a regional High School Student Production Award by the Northwest Chapter of the National Academy of Television Arts & Sciences (NATAS, presenter of the Emmy Awards). And now, both films have been nominated for the 2019 National Student Production Awards in the Short Form Non-Fiction category.
Only five films were nominated from a field of thousands, and they are two of the nominees.
"Browning Rising Voices" tells the story of a remarkable poetry program at Browning
High School on the Blackfeet Indian Reservation, where students write and perform original spoken-word literary pieces. In this mini-documentary, students filmed their writing process and performances, and directed vignettes to accompany their poetry. The film artfully demonstrates the strength and importance of their stories.
As student Hailie Hendersen wrote for the film, "The Seventh Generation is here, and coming on strong."
"Art for Survival" is about an after-school program at the Holter Museum of Art that provides a creative community for teens to engage with visual artists and writers to explore ways that art can help them navigate life. In this short documentary, students express what it's like to be a teenager in contemporary society, investigate the stresses that can lead to anxiety and depression, and learn how to safely share powerful emotions in a communal setting.
"I think when we say 'survival,' it maybe seems a little bit dramatic, but it is an art for survival class," said director Abigail Stiffler. "It has helped me with a lot of things, and it's been a huge coping mechanism."
The subject matter of both films hew closely to the NATAS mandate. The National Academy of Television Arts & Sciences (NATAS) is a professional, non-profit service organization dedicated to the advancement of the arts and sciences of television and the promotion of creative leadership for artistic, educational and technical achievements within the television industry. It's the organization that awards the Emmy's.
"The future journalists, analysts, correspondents and entertainers of the next generation will be found among these talented young nominees represented here," said NATAS President and CEO, Adam Sharp,. "Highlighting their work and encouraging their pursuit of excellence is one of the primary mandates of our Foundation."
"The National Student Production Awards challenge students to be actively engaged in their education by real world experiences," said NATAS Education Chair, Danielle Mannion.
MAPS, a free-of-charge media arts program based in Hamilton, MT, has been serving students in grades 8-12 since 2004. Classes include filmmaking, graphic design, music production and new technologies.
In 2017, MAPS was recognized as one of the top 12 creative arts youth programs in the country, with a National Arts and Humanities Youth Program Award.
"Browning Rising Voices" and "Art for Survival" were created as part of the MAPS Media Lab, the organization's statewide educational outreach program directed by award-winning filmmaker Dru Carr.
"MAPS is so proud of the students who contributed their hard work and creative skills to these films," said Carr. He noted that filmmakers from Browning High School were the production crew behind "Browning Rising Voices" and the teen artists from the Holter Museum in Helena were the crew for "Art for Survival."
"We want to thank NATAS for the opportunity to showcase the powerful work MAPS students are producing," he added. "It's truly an honor to be a part of what they create."
The Student Production Awards presentation will be live-streamed by NATAS on
Facebook and Twitter at Noon Mountain Time on Friday, Nov. 1.
Watch the awards live online at www.facebook.com/NATASSPA; https://twitter.com/NATASSPA or https://www.facebook.com/TheEmmys.
No matter the result, MAPS Executive Director Clare Ann Harff says everybody involved is already a winner.
"MAPS is built around the idea that if you give students the tools and a professional, compassionate instruction, there is virtually no limit to what they can achieve," she said. "The manner in which the film crew and subjects opened themselves up to the creative process is simply astounding. The sheer bravery and eloquence depicted in these films will resonate with everyone who watches them."
To view the films, go to the MAPS Media Institute YouTube channel:
https://www.youtube.com/c/MAPSMediaInstitute.