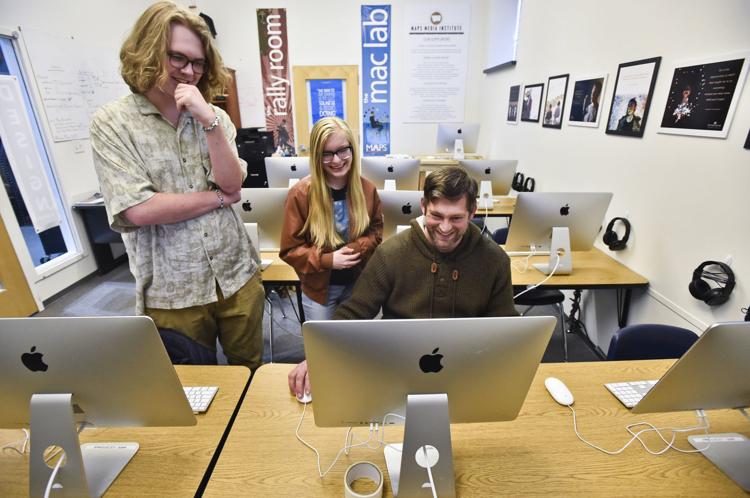 A chance for students to use state-of-the-art Apple iMacs and software and take classes in filmmaking and graphic design — all at no cost. Hard to believe — but it's true. MAPS — Lewis & Clark County just opened the doors of its new media lab in the Holter Museum of Art, and it's ready to launch its first classes in filmmaking and graphic design beginning Dec. 2. Graphic design classes are Mondays and Tuesdays, 4:30 to 6:30 p.m. And filmmaking classes meet Wednesdays and Thursdays, 4:30 to 6:30 p.m.
"The classes are totally free of charge," said MAPS Media Institute Executive Director Clare Ann Harff. No experience?
No problem.
These afterschool classes for eighth through 12th grade students welcome all skill levels and will run through May.
Students from the tri-county area can sign up at https://www.mapsmediainstitute.com/ or call 406-594-2827.
The iMacs are all outfitted with the latest high-performance graphics, displays and software, said Harff.
MAPS also has a mobile unit — MAPS Media Lab — that's a complete media arts studio equipped with cameras, audio, lighting, green screen and accessories.
MAPS, which stands for Media Arts in the Public Schools, launched in 2004 in the Bitterroot Valley with a film class at Corvallis High School and has steadily grown in the past 15 years to reach students across the state.
The quality of what MAPS students are producing is commanding national attention. Browning High School's short film, "Browning Rising Voices," just won a prestigious national student Emmy Award.
It's officially called the 2019 National Student Production Award and is given out by the organization that awards Emmys.
The Holter Museum of Art's Art for Survival program won a Regional Emmy for its mini-documentary, "Art for Survival: Our Story."
"These are the highest awards a high school filmmaker can win," Harff said, adding that it's the first time a Montana organization serving high school students has won.
They were competing with thousands of films for these honors. Both films can be viewed at https://www.youtube.com/c/MAPSMediaInstitute.
MAKING A DIFFERENCE
"We teach graphic design, filmmaking, how to record music, video game design and we also teach them how to make money at all that in an entrepreneur class," said Harff.
"Another component that's critical to MAPS is getting our students engaged in the community using these developing skill sets," Harff said.
Austin Giarde, 18, a senior at Project for Alternative Learning, is one student who has already benefited from working with MAPS on a film, "EAST," made in collaboration with The Myrna Loy this past year.
He'll be a teaching assistant in the new Holter MAPS lab.
"I learned a lot about … how to work as a team," he said of his MAPS experience.
"Because I want to go into film, it was really exciting to work with a big film crew.
"It teaches you creativity and self-expression — that's the other big thing."
Giarde's also thrilled about the equipment he and other students get to use.
He's been making short films on his own since fourth grade, he said, using an iPhone or iPad, but MAPS equipment is quite a step up. "It's all so professional," he said. "I don't know of any other nonprofit or organization that gives kids such a chance to use expensive equipment and editing software.
"They let the kids really do what they want with that," he said. "It's kind of unreal.
"You don't have to know anything about design and film to take classes. They'll teach you everything.
"For me, personally, MAPS is a beautiful opportunity — I wish I'd had it when I was younger."
But he's definitely taking advantage of everything he can learn now.
While he helps kids in the lab learn new skills, he's planning to pick up more himself. "I'm really looking forward to it.
"MAPS really does take pride in its students," he added. "They really want their students to succeed.
HOLTER PARTNERSHIP
Holter executive director Chris Riccardo is excited to be partnering with MAPS. "It was such a pleasure and such an incredible experience to work with MAPS on the Art for Survival film," he said. "We were just thrilled with their work with the kids and the results."
He's glad he bumped into Harff at a conference when she was looking for a place to expand the MAPS program "and luckily we had the space."
"I'm a big believer in media arts and what's happening," he said. "We have to move ourselves ahead into the future.
"I'd love to look at it as an art form we can collect and show at the museum."
He's excited about teaching media skills to kids, he said. "It's just a perfect partnership."
"We just want to get as many kids as we can through that program."
It offers teens skills they can carry into the future, he said.
MAPS does more than teach students how to use the latest computers and software.
"We teach them how to tell their story," said Harff. "We teach them how to solve a problem in their community or how to shed light on an issue they need to share with the rest of the world."
MAPS gets kids engaged in their community, she added. They learn not only how to apply their skills but also how to offer community service.
Ari Lee Laskin, a filmmaker and former film professor at Occidental College in California, will run the Holter MAPS lab and teach a filmmaking class.
"I'm very excited to work with this demographic that MAPS deals with," he said. "I'm a big proponent of mixing history and theory with hands-on technical instruction.
"Anyone can read a manual on operating a camera. I'm interested in making competent filmmakers. "That involves looking at film history and film practices from around the world."
Years ago, MAPS started in a space the size of a closet, said Harff, but has gone on to serve thousands of students across Montana, the majority of them in rural and reservation communities.
All the programs are free, thanks to U.S. Department of Education 21st Century Community Learning Center grants and the Montana Office of Public Instruction, as well as other grants and donations.
In addition to taking classes, MAPS students will assist in creating media for other Helena area nonprofits about their programs, she said.
In 2017, MAPS was presented a National Arts and Humanities Youth Programs award, an honor given to the top 12 creative youth organizations in the country.