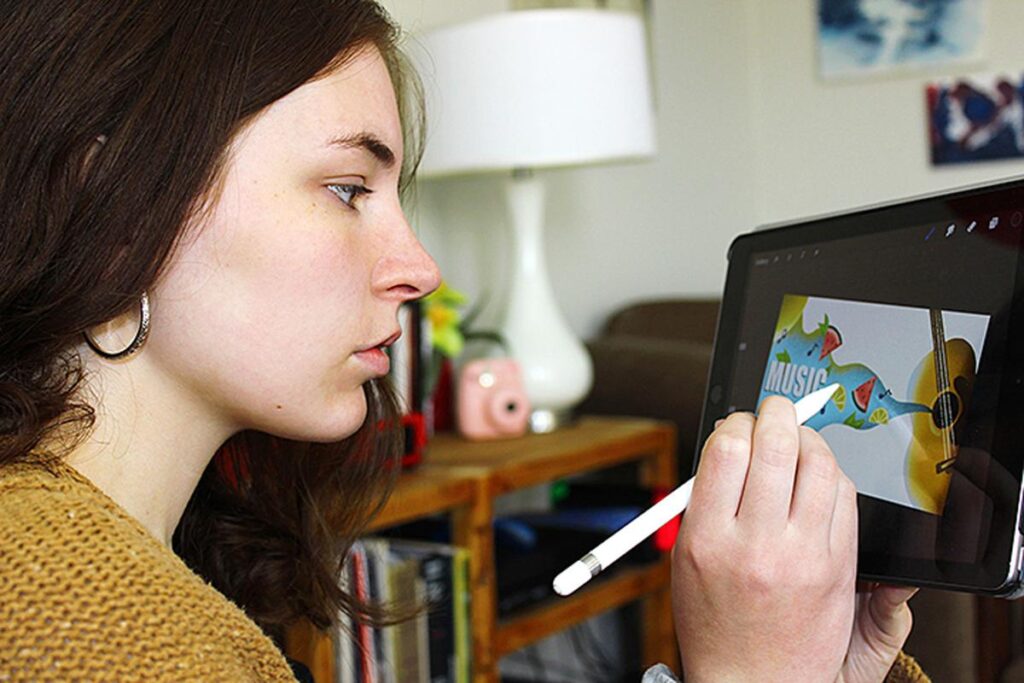 MAPS Media Institute will shift exclusively to an online format for its summer 2020 courses, a natural move for an organization that teaches media arts.
The entire curriculum will remain free of charge, and for the first time, MAPS will open select summer classes to all eighth- through 12th-grade students statewide.
The move comes in response to the coronavirus pandemic, said Executive Director Clare Ann Harff, noting that MAPS consulted instructors, students and parents, as well as local, state and national guidelines in the decision process.
"Our initial thoughts were to keep our students safely connected," she said. "Now we see it as a challenge to deliver the most dynamic, engaging and professional online learning experience possible."
To that end, the MAPS team of professional artists and designers is building a new, interactive website to accommodate remote learning, with instructors modifying their lesson plans to maximize the new format.
Harff said that while students and staff will need time to adjust, they've already demonstrated the ability to do so during the latter part of spring classes, which moved online in March. Using the interactive website, students will continue to work on projects during class time and they also will have extensive online MAPS resources to help guide them when they are working independently.
Students in eighth through 12th grades from Ravalli and Lewis & Clark counties — where MAPS offers year-round programming — will be able to access the full slate of MAPS classes, including an "Intro to MAPS" for new students and a "Media Smarts" media literacy course. These classes are part of the core MAPS curricula of film, music production, graphic design and new technologies. Additionally, eighth- through 12th-grade students from any Montana community are invited to enroll in two new course offerings, "Photojournalism" and "Intro to Podcasts."
"Offering free-of-charge, professional online media classes to any student in Montana is a big step for MAPS," Harff said. "While we've been strategically expanding our programming these last few years, the pandemic has fast-forwarded our efforts to reach more students."
To assist students with limited or no access to a home computer, MAPS invested in 10 new iPads with all the necessary apps for summer classes. Parents and guardians will be able to check them out for each weeklong class.
In addition to online programming, the MAPS team also will conduct social-distancing activities at the campus in Hamilton every Wednesday during the months of June and July. "MAPS Unplugged: The Lawn Sessions" will range from parking lot chalk murals to music jams and photo scavenger hunts. The sessions will be open to all enrolled MAPS students in Ravalli County.
"During a time when students have fewer opportunities, MAPS needs to go the distance to offer them more," Harff said. "The Lawn Sessions is another creative solution to staying safely connected with our students."
These new programs mean more work for the MAPS team, but they're getting some help from the AmeriCorps Summer VISTA program through a long-standing partnership with Montana Campus Compact. All four service members are graduates of the MAPS Media Institute, "an indication of the kind of gratitude that MAPS programs inspire," said Harff.
Ella Hoenstine took four years of MAPS classes before studying graphic arts in college and is now returning to contribute in a mentorship position.
"Getting to serve at MAPS is an unbelievable opportunity for me this summer," Hoenstine said. "Not only sharing my love and skill of graphic design with high school students, but giving back to MAPS is something I've always wanted to do."
In recent years, MAPS filmmaking students have garnered attention at the national level, winning prizes at film festivals, as well as a coveted National Student Production Award from the parent group of the Emmy Awards. It will be a challenge to replicate that high level of instruction in an online environment, but Harff is confident that MAPS will prevail.
"We're an organization that has offered intensive, professional-level instruction in media arts since 2004, and we've never charged families a single penny, so we're used to beating the odds," she said. "Despite the challenges we know we'll face in the months to come, we believe Montana's students need and deserve our support more than ever before. Our team is digging deep and committed to delivering 100%."
For more info and to enroll in MAPS Summer Program, visit mapsmediainstitute.com.
All MAPS Media Institute Summer Classes are one-week intensives, held from 1 p.m. to 4 p.m., Monday through Friday. Register soon, as enrollment is capped at 15, with a wait list.
Classes for MAPS students grades 8-12 in Ravalli and Lewis & Clark counties:
June 8-12: Intro to MAPS: explore a different class each day
June 22-26: Music: homemade tunes with Cove Jasmin
July 6-10: Filmmaking 101: create short films with a smartphone or iPad
July 13-17: Tech: Robot Construction and Competition (*students will receive their own robot kit)
July 20-24: Graphic Design: Explore the fundamentals of digital design
July 27-31: Media Smarts: how to use the Internet instead of it using you
Classes for all students grades 8-12 throughout Montana:
June 15-19: Still Life: exploring photojournalism
June 29-July 3: Podcasts: spoken word stories
MAPS Unplugged: The Lawn Sessions
Every Wednesday in June and July, from 3–5 p.m., 515 Madison St, Hamilton. Activities include:

Parking lot chalk mural
Music jams
Guided nature walk
Paper airplane contest
Photo scavenger hunt
Drawing composition
Origami.