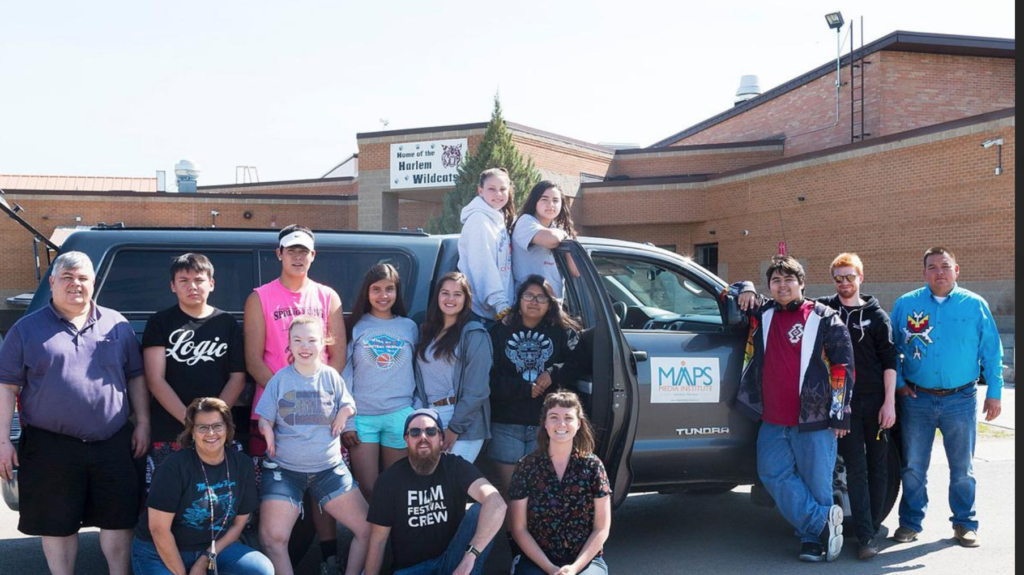 Montana is making a splash when it comes to high school student filmmaking.
One year after earning three regional production awards—and one highly coveted national award—from NATAS (the National Academy of Television Arts and Sciences, known more widely as the group behind the Emmy Awards), students of the Montana-based MAPS Media Institute have taken home two more wins from this year's competition, MAPS announced in a news release.
During an online ceremony live-streamed from NATAS Northwest headquarters in Seattle on Saturday, June 6, officials announced that both "Looking Forward From Yesterday" (Short Form Non-Fiction) and "EAST" (Short Form Fiction) had taken top honors in their respective categories. They now advance to the national competition, where they will vie for the country's top prize for student production work against high schools from predominantly larger markets.
"We've always believed that Montana students could measure up with the best in the country, as long as they had the tools to do so," said MAPS executive director Clare Ann Harff in a statement. "And the extraordinary work produced by our students goes a long way in proving that point."
MAPS is a nationally-recognized, educational nonprofit that offers intensive, hands-on instruction in media arts to 8th- to 12th-graders across the state. Classes in filmmaking, graphic design, music production and new technologies are available to students in Ravalli and Lewis and Clark counties on a year-round basis, and to more remote areas via the mobile MAPS Media Lab. Classes are held after school during the academic year, with shorter workshops offered during the summer. Thanks to funding from state and national grants and foundations, all MAPS classes are free of charge.
As it happens, both films in the NATAS Northwest competition originated in MAPS Media Lab workshops. "EAST" was the result of a collaboration between MAPS and the Myrna Loy Theatre in Helena, where area students got a crash course in filmmaking from MAPS instructors in the spring of 2019. The film follows a day in the life of three East Helena teenagers and touches on themes of a sense of places, enduring adversity and the bonds of friendship.
"That these kids, many of whom had never picked up a camera or wrote a script before, could put a film like this together in just four workshops is pretty incredible," said filmmaker and MAPS Media Lab director Dru Carr in the news release.
The crew from "Looking Forward From Yesterday" was a bit more seasoned than the first time filmmaking students from Helena. This was the third MAPS project undertaken by the students from north-central Montana, who formed their own production company, Milk River Productions. Harlem High School is located just across the Milk River from the Fort Belknap Indian Reservation, which belongs to the people of the A'aninin (Gros Ventre) and Nakoda (Assiniboine) tribes. "Looking Forward From Yesterday" is a documentary that chronicles the challenges facing the tribes as they work to preserve and even resurrect their culture in contemporary times. It's a powerful and intimate story about a way of life that many feared was lost completely.
"Our tribes are doing some incredible work, and to have our own kids be able to document that work means more than you can imagine," said Craig Todd, the production company's Harlem High School adviser, in a statement. "These are real passion projects for the kids, and it's been such a privilege to watch them develop their skill sets. They have grown in so many ways since they first began working with MAPS. They are doing this for their families, for their community and for their future."
Both films now move on to the national NATAS competition, winners of which will be announced in the fall. The filmmaking teams can take inspiration from the MAPS production created with Browning High School students, "Browning Rising Voices," which earned a National Student Production Award in Short-Form Fiction at the 2019 ceremony.
"Our students had two films in that same category last year," Harff said in a statement, noting that one of the films "Browning Rising Voices" edged out was a MAPS documentary about an after-school arts program in Helena, "so it would be wonderful if they both won. But regardless of what happens in the fall, we are so very proud of both of these teams. Their growth and success inspire us to keep doing what we do."