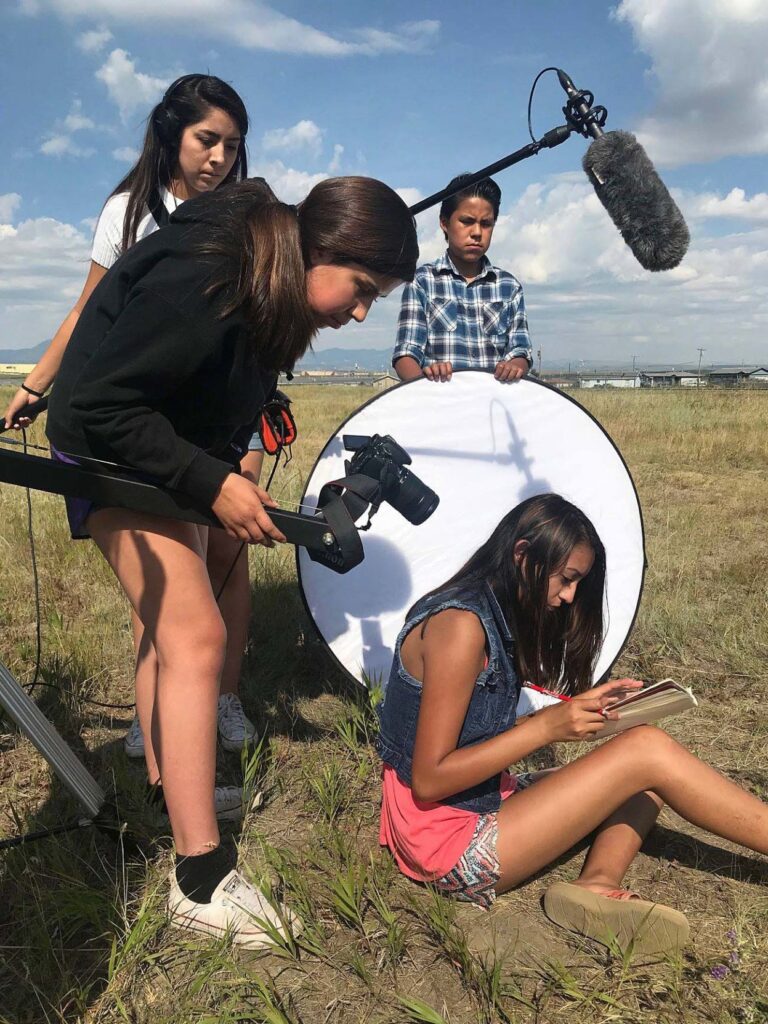 A new film series produced by MAPS Media Institute will premiere on Montana PBS at 7 p.m. on Thursday, Jan. 7.
"Stories from Montana's Future" showcases the filmmaking talent of high school students from across the state. The first episode, airing on Jan. 7, is entitled "Blackfeet Country" and includes three award-winning short films made by the students of Browning High School on the Blackfeet Indian Reservation.
The series includes "Browning Rising Voices," which won the 2019 National Student Production Award from the National Academy of Television Arts and Sciences (NATAS) for short form non-fiction. The film vividly portrays the talented Rising Voices poetry club at Browning High School, where students write and perform their original work. Also included in the episode are "The Last Day" and "Aisitsimstā (Imagination)." Both films won the best short form fiction award from the Northwest NATAS, in 2018 and 2019, respectively. These productions were filmed and edited by Browning High School students in an intensive week-long MAPS filmmaking workshop, with support from Montana GEAR Up and the Greater Montana Foundation.
MAPS Media Institute is a nonprofit organization whose mission is to empower, inspire and prepare Montana's next generation for future success through professional media arts instruction, engaging community service and compassionate mentoring. Founded in 2004 as an afterschool media arts program in the Bitterroot Valley, MAPS programming now reaches students in grades 8 through 12 in communities throughout Montana. In addition to film, classes include graphic design, music, new technologies, podcasts, and future readiness. MAPS received the 2017 National Arts and Humanities Youth Programs award, an honor bestowed to the top 12 creative youth programs in the country.
MAPS classes are taught by professional artists, focusing on the creative and critical skills necessary for students to become more effective communicators and aware, engaged citizens, says MAPS Executive Director Clare Ann Harff.
"We're very grateful that Montana PBS recognizes the profound value in these films and their belief in the importance of sharing the students' hard work and inspiring stories with a statewide audience," Harff said. "It's an extraordinarily empowering experience for student's to see their work broadcast and have their friends and families watch, and celebrate, their accomplishments."
MAPS Director of Programming, Dru Carr, explained the student filmmaking process.
"We teach script writing and acting, how to use cameras and audio equipment, and editing, but the creative inspiration and the story telling comes from the students," Carr said. "That's where I think the magic comes in these films – from the perspectives and imaginations of the students. In addition to the technical and creative learning, MAPS hands-on workshops also help students develop social and emotional skills not always available from textbooks or lectures."
These films were funded by the generous support of the Greater Montana Foundation in order to benefit the people of Montana by encouraging communication, with an emphasis on electronic media on issues, trends, and values of importance to present and future generations of Montanans.
The January 2021 viewer's guide for Montana PBS with more information on the broadcast can be found at https://www.montanapbs.org. A livestream of this program will also be available at montanapbs.org/watch. To see a teaser for "Stories from Montana's Future, please visit: https://youtu.be/6Wdga2XncfQ. Episodes 2, 3, and 4 of the series are expected to air later this year on Montana PBS.
For more information about MAPS, please visit mapsmediainstitute.com.