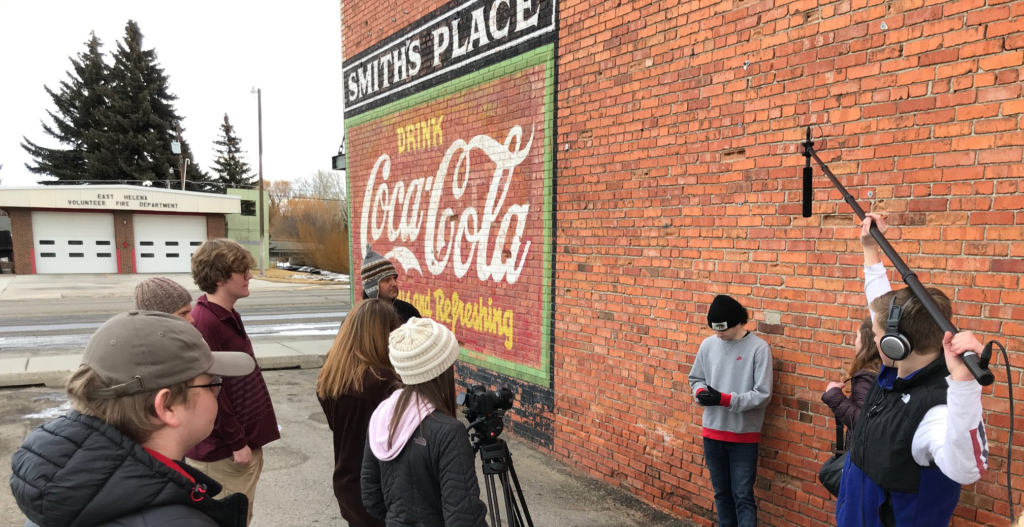 "EAST," the award-winning film produced by MAPS Media Institute, in partnership with The Myrna Loy of Helena, will be one of four MAPS films showcased in the second MT PBS installment of "Stories from Montana's Future: Lewis and Clark County."
This unique film was written, filmed, directed and edited by teen artists in a series of weekend workshops. The film follows a day in the life of three youth exploring their sense of place and the bonds of friendship they discover on their journey.
MAPS student director of "EAST" and recent graduate of The Project for Alternative Learning, Austin Giarde, sees the film as, "A way to give voice to artistic teens living in small towns across America." He feels the film shows how creativity can get lost in small-town culture.
"It's easy to feel somewhat invisible in small Montana towns. This isn't a bad thing, just more of a commentary on how much louder an artistic voice has to be if it wants to be heard."
The second episode of the four-part series, "Stories from Montana's Future," also gives viewers a look inside "Art for Survival," which explores how a group of Montana youth turned to art and community as a means to work through difficult times. MAPS produced this film in partnership with the Holter Museum of Art.
The third film showcased in this series comes from MAPS Lewis and Clark County student teaching assistant, Quin Vulk. Quin's featured stop-motion animation "Behind the Scenes" imagines how media equipment would interact through movement when no one was looking. This is Quin's second stop motion and is a remarkable testament to her dedication of the creative process in regards to learning new technical skills within a developed, nuanced storyline.
MAPS Media Institute is a nonprofit organization that empowers, inspires and prepares Montana's future generations for success through professional media arts instruction, engaging community service and compassionate mentoring.
Founded in 2004 as an after-school media arts program in the Bitterroot Valley, MAPS programming now reaches students grades 8 through 12 in communities throughout Montana. In addition to film, classes include graphic design, music, new technologies, podcasts, photojournalism and future-readiness. In 2017, MAPS received the National Arts and Humanities Youth Programs Award, an honor bestowed to the top 12 creative youth programs in the country.
MAPS classes are taught by professional artists, focusing on the creative and critical skills necessary for students to become more effective communicators and aware, engaged citizens, says MAPS Executive Director Clare Ann Harff.
"We're very grateful that Montana PBS recognizes the profound value in these films and their belief in the importance of sharing the students' hard work and inspiring stories with a statewide audience," Harff said. "It's an extraordinarily empowering experience for students to see their work broadcast and have their friends and families watch, and celebrate, their accomplishments."
MAPS Director of Programming, Dru Carr, explained the student filmmaking process.
"We teach scriptwriting and acting, how to use cameras and audio equipment, and editing, but the creative inspiration and the storytelling comes from the students," Carr said. "That's where I think the magic comes in these films – from the perspectives and imaginations of the students. In addition to the technical and creative learning, MAPS hands-on style helps students develop social and emotional skills not always available from textbooks or lectures."
Both "Art for Survival" and "EAST" films were funded by the generous support of the Greater Montana Foundation to benefit the people of Montana by encouraging communication, with an emphasis on electronic media on issues, trends, and values of importance to present and future generations of Montanans. "EAST" was also funded in part by the Myrna Loy's Art Place grant.
The April 2021 viewer's guide for Montana PBS with more information on the broadcast can be found at https://www.montanapbs.org. A livestream of this program will also be available at montanapbs.org/watch. Episodes 2, 3, and 4 of the series are expected to air later this year on Montana PBS.
For more information about MAPS, please visit mapsmediainstitute.com.