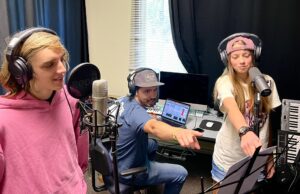 Ravalli County-based nonprofit organizations, Fire in the Root Council (FITRC) and MAPS Media Institute (MAPS), recently partnered to create six radio PSAs that shine a light on wildfire safety and preparedness.
"The Fire in the Root Council promotes and facilitates the long-term reduction of risk from wildfire and adaptation to wildfire by communities and residents throughout Ravalli County," said Rick Donovan, Ph.D., and FITRC member. "Through these PSAs, recorded by talented MAPS students, we hope to help Ravalli County residents know where to find wildfire risk information, increase their awareness about unwanted human-caused wildfires, learn about the Ravalli County Community Wildfire Protection Plan update process, and better understand the need for and options to create fire-adapted communities."
When approached to collaborate on this project, MAPS students were excited to start scripting, develop their fire-safety characters, and get into the recording studio to put their media arts skills to work.
Laurel D., a Ravalli County freshman, said, "While the PSAs were super fun to record, we also learned that fire safety isn't just important for adults. It's important for youth to know this information since we all need to work together to keep the Bitterroot Valley wildfire safe".
Clare Ann Harff, MAPS Executive Director, adds, "These radio PSAs are an inspiring example of MAPS students putting their media arts and communication skills to great use. Combining talent, technical savvy, and a creative approach, we hope their voices will motivate everyone in our community to do their parts on an issue that affects us all."
The six radio spots cover essential topics, including how to safely burn debris, determine your home's wildfire risk, and learn about active fires before adventuring outdoors. The PSAs also share important information about containing a campfire and fireworks safety (just in time for this year's celebrations!).
The radio spots will air on KLYQ and run throughout the summer.
The Fire in the Root Council is composed of representatives from local fire protection agencies, state and local government, concerned residents, realtors, builders, insurance agents, homeowner associations, local businesses, and more, all working together to create innovative, cross-boundary solutions to reduce wildfire risk throughout the county.
MAPS Media Institute, which started in the Bitterroot Valley in 2004, has expanded as a statewide nonprofit that provides free professional media arts instruction to youth in 8th through 12th grades. MAPS mission is to empower, inspire, and prepare Montana's future generations for success through their professional media arts instruction, engaging community service, and compassionate mentoring.
For more information about the Fire in the Root Council, visit: fireintheroot.org